Google will roll out over the next two weeks an interface module for Gmail that displays contextual information about people involved in a message's thread.
Called the People Widget, the new feature surfaces information on a right-hand column such as people's place of work, title and photo from Gmail contacts, their recent Google Buzz posts and links to shared Google Calendar entries, Google Docs files and previous Gmail e-mail conversations.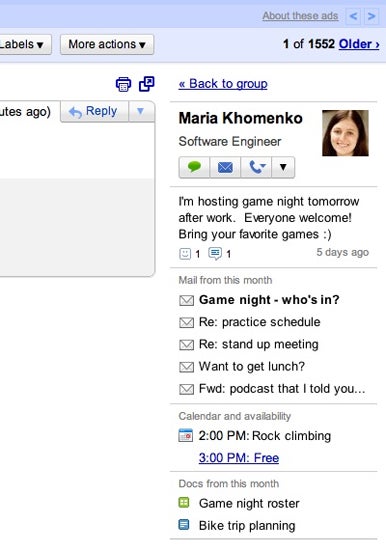 "The people widget surfaces content from friends, family and colleagues that is already available to you but may be hard to find and makes it easier to connect with them," wrote Google Software Engineer Zohair Hyder in a blog post.
The widget also provides shortcut commands to trigger group chat sessions or schedule meetings.
In concept, the People Widget resembles the functionality provided by Xobni's plug-in for Microsoft Outlook and for BlackBerry devices. However, Xobni's product can also draw in contextual user data from external social media sites like Facebook and Twitter, and from enterprise applications like Salesforce.com and Microsoft SharePoint. Xobni also recently unveiled a platform for third-party software vendors to build Outlook plug-ins. Xobni is currently beta testing versions of its software for Gmail and for Android and iPhone devices.
Microsoft and IBM are also pursuing this concept with, respectively, the Outlook Social Connector and the Notes 8 client.