Training company Infinite Skills has released an app for the iPad that offers more than 13 hours of professional training in Adobe Photoshop CS5.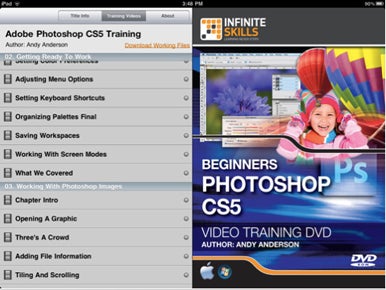 The app includes 230 lessons covering over 13 hours, using fast streaming over Wi-Fi and 3G to keep the total application size under 5MB.
The new app is based on the company's Adobe Photoshop CS5 Tutorial Video which has previously been offered on DVD-ROM and as direct downloads through Infinite Skill's Website.
This includes everything from cropping, color correction, and file management through Adobe Bridge to layer masking, using Camera RAW and even monitor calibration. Tutorials can be viewed in any order and an unlimited number of times.
New Photoshop features such as content-aware fills and the refine edges tool are also covered, so even more intermediate Photoshop users can benefit from the app. The lessons are narrated and presented by Andy Anderson, a professional software trainer whose client list includes Disney, Universal Studios and The White House.
The app, called Learn Photoshop CS5 Quickly And Easily, costs $10 in the App Store and requires iOS 4.2 or later.