It's far more common for apps in the iOS App Store to make money than it is for apps in the Google Android Market, according to a report published by Dutch mobile app store research firm Distimo. The firm's study contrasts Apple and Google's mobile app outlets (along with a few less popular ones), and reaches a variety of interesting conclusions.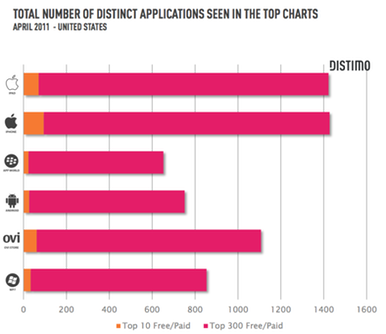 Many of Distimo's findings reveal that Google Android Market just isn't delivering that many apps to customers. For example, 25 percent of free applications and 79 percent of all paid applications in the market have been downloaded fewer than 100 times worldwide. Only two paid apps in Google's market have crossed the 500,000 download mark worldwide to date, while six App Store paid apps get 500,000 downloads over two months—only counting U.S. sales.
Distimo additionally notes that Apple's store sees far more turnover in its Top 10 lists for free and paid apps. "The top 10 free and top 10 paid applications together have seen only 26 applications in the Google Android Market, while there have been 94 applications in the top 10 free and paid in the Apple App Store for iPhone," Distimo says in its report. The group cites this statistic as a potential explanation for Android Market's lower overall sales performance.
Distimo also took a close look at games in each mobile store. Five paid games in Google Android Market have at least 250,000 downloads; ten paid iPhone games matched that milestone—again, in just a two month period, and again counting only U.S. sales.
Unlike the iOS App Store, Distimo says, "the majority of the applications are free in Google Android Market," and the firm concludes that's because of the difficulty paid apps have in finding traction with customers. Google's store includes 71,801 paid apps to Apple's 211,369, according to Distimo's figures.
The group also says that just one app in Google's Android Marketplace has scored more than 50 million downloads—the free Google Maps app. The report doesn't say how many iOS App Store apps crossed that threshold, but of course Google Maps comes pre-installed on every iOS device.
Google has recently touted Android's growth in market share, though it seems that Apple's focus—as ever—remains staunchly on profit share.