At a Glance
Expert's Rating
Our Verdict
Editor's note: The following review is part of Macworld's GemFest 2011 series. Every day from mid June through July, the Macworld staff will use the Mac Gems blog to briefly cover a favorite free or low-cost program. Visit the Mac Gems homepage for a list of past Mac Gems.
Press Command-Escape and you launch Apple's easily-navigable media browser, Front Row. If you haven't invoked that keyboard combination in living memory because of Front Row's limitations, FireCore—makers of the aTV Flash ( ) Apple TV hack—hope that its $20 MiRow will provide you with enough reasons to try again. Much like aTV Flash, MiRow adds Internet- and local-media capabilities to Front Row. Specifically, after installing MiRow and firing up Front Row, you'll see the expected Movies, TV Shows, Music, Podcast, Photos, Settings, and Sources entries along with these new entries—Media, Internet, Last.fm, Weather, RSS, and Standby (which puts the Mac to sleep).
The Media entry is a reflection of the installed Sapphire Browser. This is a media browser that allows Front Row to recognize and play a variety of media formats such as AVI and MKV that are not natively supported by Front Row.
Select Internet and you see a Top Sites screen where you can visit such sites as Netflix, Hulu, YouTube, Vimeo, Google, Twitter, FaceBook, ABC, BBC, Fox, NBC, CBS, Comedy Central, and a handful of sports sites. Choose a site and press your Mac's Return key or the Play/Pause button on an Apple Remote and you're taken to that Website. If you're working with your Mac's controls you can click links and operate play controls with the mouse or trackpad and onscreen cursor. If you're using an Apple Remote, you instead press the Select (new remote) or Play/Pause (old remote) button and the cursor appears with a blue haze around it. You then move around the page using the remote's navigation buttons, which, yes, is a little clumsy. Clumsier still is having to enter text using Front Row's onscreen keyboard when working with something like a Search field.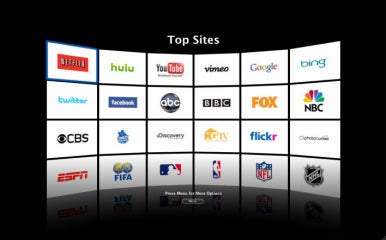 Fortunately, there's another input option, although it adds to the price. MiRow can be controlled via App Dynamic's $8 Remote HD app (discounted to $5 as I write this). Without writing a separate review of this app, suffice it to say that with its nicely laid out controls and touchpad screen, it allows you to move around Front Row (and, thus, MiRow) with ease.
Last.fm is exactly what it sounds like. Select it, enter your Last.fm user name and password, and you can do pretty much what you can do with Last.fm on the Web—create stations, listen to the stations you've created, and rate tracks.
The Weather module lets you view weather data including temperature, dew point, humidity, and wind velocity. You can add locations by name and zip code as well as choose to view temperature readings as Fahrenheit or Centigrade.
Finally, there's RSS. By default you see four entries—Digg, Engadget, ESPN, and TUAW. By selecting an Add RSS Location entry you can add RSS feeds of your own. Regrettably, the interface is an issue here as well. You can't copy RSS URLs from your "real" browser to this browser. Instead, you have to enter the URL by hand, which is problem enough when using the Mac's keyboard (because these URLs are so long) but absolutely painful when doing it with an Apple Remote.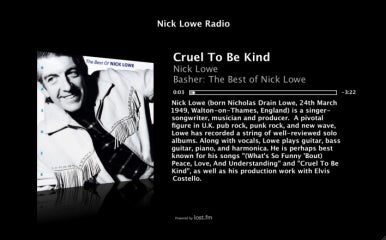 While, with some work, you can use your Mac and a Web browser to do everything MiRow can do, it's convenient to have some of these features built into Front Row. For example, you can call up your browser's bookmarks from within MiRow's Internet module to be taken directly to a favorite Website.
Regrettably, MiRow isn't all sweetness and light. For example, after watching a bit of a Hulu video on my MacBook Pro, I left the video to return to the main Hulu page and my cursor disappeared (I was navigating with the trackpad rather than an Apple Remote), making it difficult to navigate the site. I double-clicked and it returned. Also, MiRow crashed a couple of times as well. And, as I mentioned earlier, input via the Apple Remote can be clumsy.
There are also the questions of duplication and longevity. The free media server applications, Plex and Boxee, offer many of the streaming sources you find in MiRow in an easy-to-navigate browser that can also be controlled with the Apple Remote. And it's rumored that Front Row will not be included with OS X 10.7 Lion, which is slated to appear this summer. If that's the case, your time with MiRow may be short-lived unless you intend to stick with an earlier version of the Mac OS.
On the other hand, you may prefer Front Row to a more complicated media browser and have no immediate plans to update your version of OS X. If so and you'd like to have a more useful Front Row, you may like the extra features MiRow adds to it.
Want to stay up-to-date with the latest Gems? Sign up for the Mac Gems newsletter for a weekly e-mail summary of Gems reviews sent directly to your inbox. You can also follow MacGems on Twitter.
When you purchase through links in our articles, we may earn a small commission. This doesn't affect our editorial independence.