For those of us Bay Area folk who cross the Bay Bridge time and again, it's hard not to notice the ongoing NASA-launchpad-like construction for the bridge's new eastern span replacement. Starting this lovely Memorial Day weekend, drivers will have to endure a new detour on the Eastbound Oakland side that will span until the completion of the bridgework in 2013. But not to worry, concerned drivers: The Bay Bridge Public Information Office hopes to ease your traffic-addled nerves and frazzled composure by allowing you to virtually drive this detour before you ever hop on the road—all thanks to an iOS app.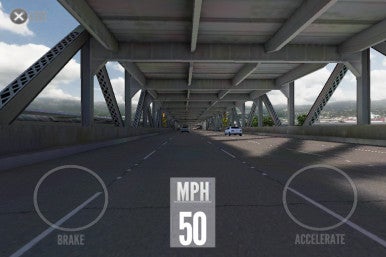 Powered by the Unreal Engine, the Bay Bridge Explorer app is a fully 3D-rendered version of the old Bay Bridge we know and love. You'll start on the Oakland side in an overhead view that shows you exactly where the Eastbound detour is taking place; then, once you've gotten your bearings, you can drive alongside your fellow 3D-rendered passengers.
Once you successfully go through the detour once, you'll unlock the ability to drive on the original bridge in both directions (in case you're nostalgic for those pre-detour days); there are two future routes labeled "coming soon," as well—perhaps to show poor, beleaguered drivers what they have to look forward to as the bridge-building progresses.
The Bay Bridge Explorer app is a free download from the App Store for any iPhone 3GS or later, third-generation iPod touch or later, and iPad or iPad 2 running iOS 3.1.3 or later. From Macworld's own tests on an original iPad, the app seems to be fairly high-maintenance and more than a little finicky; I'd recommend running as few other apps in the background as possible if you're planning on giving it a test drive.