Some may scoff at the need for a built-in app on the iPhone to tell you about current weather conditions—there's this fantastic new invention called a window that you can look out of and see what the weather's like—but I find it quite useful. Will I need a coat when I go outside or is it warm enough for a short-sleeved shirt? This unseasonably warm weather—just how hot is it right now? Just a few taps, and I can get exact temperature information I couldn't gather with just the naked eye.
There's one problem, though—those few taps. To actually get that at-a-glance information, I've got to launch the built-in Weather app, wait for it to load, and then find out how hot or cold it currently is. That's not a huge investment of time, obviously, but I'd like to be able to just glance at my phone to get the temperature as easily as I do the time.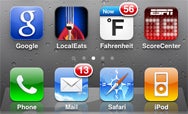 That's the main problem Fahrenheit looks to solve. The universal app from International Travel Weather Calculator pushes the current temperature to the home screen of your iPhone, iPod touch, or iPad—the temperature, which is tied to your home location, appears as an alert badge over the Fahrenheit logo, just like the alert badges that appear on apps like Messages and Mail.
But Fahrenheit delivers more than just a home-screen temperature. Launch the app, and you'll find a wealth of weather information—including current conditions, humidity, pressure, and dewpoint; a 10-day forecast; the wind speed and direction; sunrise and sunset times, and a UV index among other data. Tap an individual day, and you'll get the forecast in three-hour blocks. The content is about as extensive as what you'll find in Weather+, another International Travel Weather Calculator app, though that offering provides a more polished interface than what you'll get with Fahrenheit. Still, Fahrenheit is still an easy-to-navigate app with data that's as readable on the iPhone as it is on the iPad.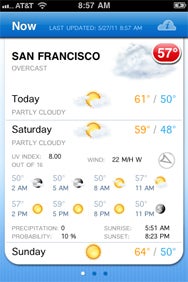 If you somehow find the wealth of weather info contained in Fahrenheit inadequate, a $1 in-app purchase adds three-hour rain, satellite, and wind, speed maps. (Three-hour temperature and cloud maps come standard with the app.) The add-ons are decent, though hardly indispensable. If you're really into radar imagery, a more dedicated app like Radar Scope will probably be more to your liking. Still, it's nice of Fahrenheit to offer access to such data at a fraction of the cost.
As its name would imply, Fahrenheit only gives the temperature in one scale. If you live in a country that favors Celsius or you simply abhor Daniel Gabriel Fahrenheit and all he stood for, the developer offers Celsius. That app is a feature-for-feature match with Fahrenheit, except for one difference that should be screamingly obvious.
Fahrenheit also has to engage in a little trickery, should the temperature ever drop below zero. Negative numbers can't appear in alert badges, so you have the option to display that temperature as a positive number; you can have Fahrenheit send you an alert when the temperature falls below zero. As I live in California, I will have far graver concerns than whether my iOS app is showing a positive or negative temperature should the mercury dip that low, but it's a feature that users in colder parts of the country should be aware of.
As with the built-in Weather app, you can add multiple cities in Fahrenheit. (I'm not sure how many exactly—I added 15 cities before I got bored. Add too many, though, and the navigational cues at the bottom of the screen become a little tough to negotiate.) That's a nice feature, but it also brings up Fahrenheit's biggest shortcoming—one that's really out of the developer's control. The home-screen temperature will only be tied to one location you designate in the settings screen; because of limitations in the current version of iOS, that temperature won't change to reflect your location. In other words, if you tie Fahrenheit in to your home in a warm inland valley, the home-screen temperature won't reflect the conditions after you've commuted to your job in a cool-weather city on the coast. It's not a deal-breaker by any means and, as I said, it's out of the developer's hands anyway. But it does mean that Fahrenheit is a marginal improvement over the built-in Weather app when, with a more accommodating operating system, it could be a substantial improvement. Still, for $1, the convenience of a home-screen temperature and the depth of information contained within the app itself makes Fahrenheit a solid addition to your iPhone or iPod touch. And on the iPad, which doesn't come with a default Weather app, Fahrenheit is a great low-cost, high-value option.
[The forecast always calls for stormy skies when Macworld.com executive editor Philip Michaels is on the scene.]