ESPN may assault us with Skip Bayless, Tony Kornheiser, and a legion of other sports pundits shouting at the top of their lungs about the Miami Heat, New York Yankees, and Duke Blue Devils, but say this for the Worldwide Leader in Sports—it keeps its word when it comes to iOS apps.
Back in April, the sports cable channel introduced WatchESPN, a free download that gave users access to live feeds from ESPN, ESPN2, ESPN3, and ESPNU. At the time, WatchESPN was only optimized for the iPhone and iPod touch; ESPN promised an iPad-optimized version in May.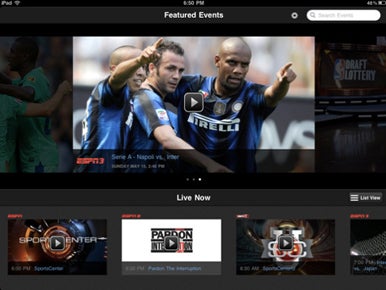 That version is now available, courtesy of the 1.1 update to WatchESPN. The update turns WatchESPN into a universal app, capable of running in optimized form on any iOS device powered by iOS 4.0 or later.
Before you revel in the anywhere-access to Pardon the Interruption, Baseball Tonight, or numerous live sporting events, realize that the supported cable operators remain unchanged. Only Time Warner Cable, Bright House Networks, and Verizon FiOS TV subscribers can take advantage of the app. If you get your high-speed Internet from Verizon, you can access ESPN3—the cable network's online offering—from the app.
As in April, the WatchESPN page in the App Store asks users to "check back regularly as new TV providers are added." Sports-loving iOS device owners who get their cable from other providers hope that's another promise ESPN delivers on down the road.