More than a year after Apple released the iPad versions of its iWork productivity suite, the company has finally announced an update that brings Pages, Numbers, and Keynote to the iPhone and iPod touch. Now you can finally crunch numbers, prep your presentations, and update your family newsletter no matter where you go.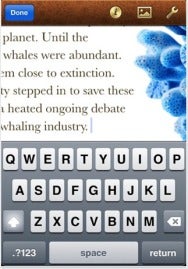 The iPhone versions of the apps sport most of the same capabilities as their iPad counterparts, including the ability to view and edit documents from iWork for Mac or Microsoft Office, as well as exporting back to those programs. They also support iOS's AirPrint wireless printing feature and include Apple-designed themes and templates. Apple also says that you can connect your iPhone or an iPod touch to an HDTV or projector to display your Keynote presentations, as you can with your iPad.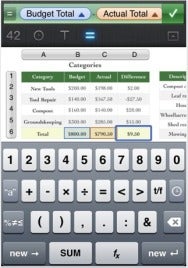 To ease working with the smaller screens, a Smart Zoom feature for Pages and Numbers automatically follows the cursor while you're editing text or data, then zooms back out to give you an overview when you're done; of course, all three of the apps have full support for Apple's high-resolution Retina displays. There also appear to be a few other changes in this update, chiefly improved document management features, which let you quickly find files or group them into folders. In addition, Pages lets you now change font style and size directly from the ruler when you're editing text.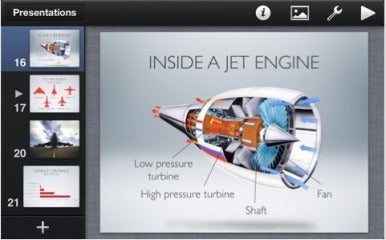 The good news for existing owners of the iPad versions is that all of the iWork apps are universal, so if you also own an iPhone or iPod touch, you'll be able to download the apps for those devices for free. Those users downloading iWork for the first time can purchase each app individually for $10. The iWork apps require an iPad, iPad 2, iPhone 3GS, iPhone 4, or third- or fourth-generation iPod touch.
Updated at 9:45 a.m. PT to add iPhone screenshots.