At a Glance
Expert's Rating
Pros
Very good image quality
Manual exposure and focus controls
Compact for a pocket megazoom camera
Good high-speed shooting performance
Cons
Mediocre macro mode
GPS drains battery quickly
Our Verdict
The Canon PowerShot SX210 IS was one of our highest-rated pocket megazoom cameras of last year. Its successor, the PowerShot SX230 HS ($350 as of May 1, 2011), keeps its core strengths while adding a few notable features.
Big changes in the SX230 HS include the camera's 12-megapixel "HS System" CMOS sensor, which replaces the SX210 IS's 14-megapixel CCD sensor and adds high-speed shooting, enhanced low-light sensitivity, and 1080p video capture to the feature set. Following the lead of pocket megazooms such as the Casio Exilim EX-H20G, Panasonic Lumix DMC-ZS10, and Sony Cyber-shot DSC-HX5V, the PowerShot SX230 HS also has an internal GPS antenna that geotags photos as you take them.
The sum of all those parts is a solid all-around pocket megazoom performer that offers manual controls, a selection of creative settings, and very good image quality.
Hardware and design
The 12-megapixel Canon PowerShot SX230 HS kicks things off with a 14X-optical-zoom lens (28mm to 392mm; F3.1 to F5.9) that has excellent optical image stabilization. Handheld shots at full telephoto turn out tack sharp, but macro performance is less than outstanding: You can get a crisp shot of an object if it's about 2 inches away from the lens in good light, but focus struggles at closer distances and in darker environments.
Traditional manual controls, such as aperture-priority mode, shutter-priority mode, and independent manual control of each, are included. The PowerShot SX230 HS also offers manual focus controls, which you operate via the camera's back-mounted scrollwheel.
The manual, aperture-priority, and shutter-priority selections are among 13 presented on the PowerShot SX230 HS's back-mounted mode dial. The dial itself is a bit cluttered with icons, but it does lock into place nicely with each selection, and it provides quick access to a number of frequently used shooting modes. Auto mode, Portrait mode, Landscape mode, and a fast-shutter/high-ISO Kids & Pets mode are all directly accessible via selections on the mode dial.
Other entries on the mode dial include a stripped-down "Easy mode," access to the camera's full menu of scene modes, an effects menu that includes a handful of creative filters, and a Program mode that lets you manually adjust ISO, white balance, and other settings. You get two movie selections on the mode dial, as well: a dial selection for video mode, as well as a Movie Digest Mode that captures short video clips every time you take a shot and then stitches them together. The camera also has a dedicated video-record button for accessing movie mode more quickly.
All in all, the mode dial is one of the best we've seen in the pocket-megazoom class for easily accessing a wide array of settings, and sometimes you get multiple options for accessing individual settings. The in-camera menus will be familiar to anyone who has used a Canon point-and-shoot—they're clear, intuitive, and easy to navigate using the camera's combination scrollwheel and directional pad.
Like last year's PowerShot SX210 IS, this camera has no raised handgrip. Instead, the peripheral edge of the PowerShot SX230 HS is grooved; you're meant to grip it around the frame with your index finger resting in the groove. The design is unconventional but comfortable, though you'll want to test it out if you're a frequent one-hand shooter. One nice touch is that the mode dial acts as a sort of thumb rest when you're shooting one-handed, making the camera feel more secure in the hand.
The 3-inch LCD on the back is your only viewfinder, but it's a good one. Visibility is good even in direct sunlight, and on-screen images and text look sharp and colorful. The camera's pop-up flash is made of plastic and feels adequately sturdy; you can activate it via in-camera menus or simply flip it up and down with your finger.
At 1.31 inches deep, 4.16 inches wide, and 2.42 inches tall, the PowerShot SX230 HS is a fairly tight fit for most pants pockets. Slightly smaller than most competing pocket megazooms, it's an easy fit for a jacket pocket or purse.
Shooting modes
The PowerShot SX230 HS features some unusual modes to go along with its more-traditional scene offerings and manual controls.
The most useful of the new modes for action shooters is the 3-shots-per-second burst mode at full resolution; also convenient is an even faster 8-shots-per-second burst mode at a reduced 3-megapixel resolution.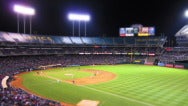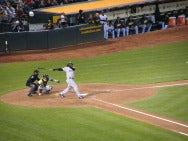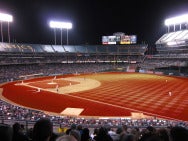 Those high-speed antics produce great results, even when you zoom the camera in to the max and use it without a tripod; the example shots at left (click to zoom) showcase the camera's impressive wide-angle-to-telephoto range. Both the wide-angle view of the field and the tight shot of the batter were taken from the same location, a seat in the second deck, about even with the right fielder.
I took the action shot using the SX230 HS's 8-shots-per-second burst mode. In video mode, the camera also records 320-by-240 standard-definition clips at 240 frames per second, letting you record speedy action in superslow motion.
Other fun-to-use modes that have appeared in previous Canon cameras are also in the mix here, including Miniature Mode (which mimics a tilt-shift lens), the Fish-Eye filter (which creates a bulbous effect), and Color Accent and Color Swap modes, which let you isolate a single color in a black-and-white shot or swap colors in a photograph, respectively.
Another interesting feature is the camera's Movie Digest Mode, which records quick video clips in the camera's buffer right before you take a photo, and then stitches the short videos together to create a video montage of your shooting day.
Performance, image quality, and video quality
In our lab's subjective tests for still-image and video quality, the PowerShot SX230 HS proved to be one of the better pocket megazoom cameras we've seen this year in overall picture quality.
Looking at sample images from the SX230 HS, our panel of judges rated its exposure quality, color accuracy, and sharpness as Very Good; it fared even better with the lack of distortion in images, earning a score of Superior.
You can view larger versions of the sample images we used for our subjective tests by clicking these thumbnails:
In our video tests, 1080p .mov clips shot with the PowerShot SX230 HS at 24 fps also looked good, but on-screen action was less smooth than in footage from some competitors due to the 24-fps frame rate. This camera is also not the best video-capture device in low-light situations; we found it hard to see what was going on in our dark-indoor-lighting tests.
Overall, the PowerShot SX230 HS achieved a score of Good for video quality and earned a grade of Superior for audio capture via its front-facing mono microphone.
You can view the sample videos we used for our bright-light and low-light subjective tests below. Select 1080p from the drop-down menu in each player to see each clip at its highest resolution.
Alas, battery life certainly isn't the PowerShot SX230 HS's strong suit. The camera is rated for 210 shots per charge of its lithium ion battery, which falls in the Fair range—and that's with the camera's GPS turned off. In my hands-on tests, the camera's battery drained fairly quickly over the course of 4 or 5 hours when the camera's "GPS logger" functionality was turned on.
In-camera GPS
The in-camera GPS features of the PowerShot SX230 HS are about as basic as you can get. When GPS is powered on, the camera adds location data to each photo's EXIF information. To avoid having to establish a GPS link each time you use the camera, you can turn on the GPS logger setting so that it keeps tracking you while the camera is turned off.
You need to offload the images to a computer to see the geotagged images on a map; unlike Casio's EX-Exilim H20G—which remains the best camera in terms of GPS features we've tested—this model has no in-camera map interface. It also offers no plain-English location display for the sites you've visited, just longitude and latitude coordinates.
Although the in-camera GPS feature generally works, it leaves a lot to be desired. A satellite icon appears next to photos that are geotagged, and pressing up on the directional pad displays longitude and latitude information. And that's about it.
What's more, despite having the GPS logger turned on, I took a few geotagged photos that weren't placed in their proper location when I used Flickr's map interface; I had to manually drag and drop the images to their correct spot on a map. That could be due to the fact that the camera wasn't able to achieve a satellite connection in certain spots, although it gave no indication that the photos weren't being geotagged properly when I took them. The glitch wasn't a big deal for my local hands-on tests, but a similar hiccup might be a major bummer if you're trying to accurately pinpoint locations of vacation photos on a map of a faraway place.
All in all, while the GPS is a nice extra to have, it isn't an overwhelming reason to buy this camera. When geotagged correctly, the photos do work seamlessly with mapping services such as those of Flickr and Google Earth, but the in-camera GPS function is a bit half-hearted and drains the battery quickly.
Macworld buying advice
Canon consistently makes some of the best-performing point-and-shoot cameras in our tests, and the PowerShot SX230 HS is no exception. Its image quality puts it among the top tier of 2011's pocket-megazoom class, and the camera can be as easy to use or as manual-oriented as you want it to be.
Its GPS functionality is fairly bare-bones, but even without that, it's a standout camera for travelers and vacationers due to its in-camera settings and its long-zoom lens. It isn't a radical departure from the PowerShot SX210 IS, but that's a good thing: The few enhancements that it does have (high-speed shooting, 1080p video, and geotagging) are solid additions.