An update to one of Apple's applications usually brings new support documentation, and the Tuesday updates to the mobile versions of iWork are no exception. To coincide with the updates to Pages, Numbers and Keynote, Apple posted more than a dozen new and revised Knowledge Base articles that deal with its mobile productivity apps.
In case you missed it, Apple added iPhone and iPod touch compatibility to Pages, Numbers, and Keynote on Tuesday. The 1.4 versions of these apps are now universal, updating the existing iPad implementations in addition to the newfound iPhone and iPod touch support. By allowing you to work with iWork documents on any iOS device, Apple fills in a gap that previously required a third-party offering such as Documents to Go—at least for people eager to see their iWork documents on a 3.5-inch screen.
Most of the support articles posted by Apple as part of Tuesday's iWork update deal with the limitations of importing an iWork document from your Mac to an iOS device. When doing so, the iOS version of the app creates a copy of the imported document and retains the original. As Apple states: "After the import process, changes made to the content or document layout are listed for your review."
Specific changes that may occur when converting a Mac iWork document to an iOS-supported version include:
All iWork apps: 3D charts are converted to 2D charts.
Pages: Documents using page layout are converted to word processing with text wrap.
Pages: Linked text boxes are separated, retaining text, styles, and placement.
Pages: Changes tracked in an imported document are accepted and comments are not imported.
Numbers: Hidden rows or columns are unhidden.
Numbers: Conditional formatting is removed from imported spreadsheets.
Numbers: Merged cells are unmerged.
Keynote: Recorded audio (voiceover narration) is not imported.
Keynote: Comments are not imported.
See the support articles on Pages, Numbers, and Keynote for a list of all changes.
A few attributes of iWork documents on the Mac don't make the transition to iOS versions at all. These include:
iWork apps for iOS can display only a subset of the fonts you may have on a Mac. The names of the over 40 supported fonts are listed in an Apple support article.
Keynote for iOS does not implement all the builds and transitions available in its Mac sibling. The names of the over 50 items it does support are listed in an Apple support article.
The updated versions of the iWork for iOS apps add several minor new features, available both in the iPad and iPhone versions. These include: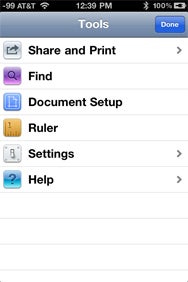 • Folders: From the Documents screen in any iWork for iOS app, you can organize your documents into folders. To create a folder, simply drag one document icon over another—just as you do for apps in the iOS Home screen.
• Exporting and importing The options to export a document (such as Email Document, Send to iTunes or Copy to WebDAV) have been moved to a more convenient location. You now select to export while a document is open, rather than needing to return to the main Documents screen. Just tap the Tools menu and select the Share and Print item (as seen in the figure on the right). Importing documents is still handled from the Documents screen—via tapping the plus (+) icon at the top left.