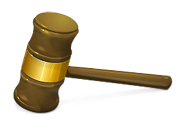 If you thought that the news that Apple was backing its iOS developers would scare off the patent-infringement allegations of intellectual property firm Lodsys, think again. On Tuesday, Lodsys filed suit against seven developers for patent infringement in the U.S. District Court for the Eastern District of Texas. The company also once again took to its Website to clarify its position and restate its earlier claims.
This latest salvo in the three-way battle between Lodsys, Apple, and third-party developers comes less than a week before Apple kicks off its annual Worldwide Developers Conference. On Tuesday, Apple announced it would show off the latest version of its mobile operating system, iOS 5, at a Steve Jobs-led keynote. On its site, Lodsys said that it moved its litigation timetable up "in response to Apple's threat," so that it can "preserve its legal options."
Filing suit in Texas is unsurprising, as that particular district is often considered to be friendly to plaintiffs in intellectual property disputes. Legal blog FOSS Patents reports that the companies sued by Lodsys include, among others, The Iconfactory, Quickoffice, and Illusion Labs; in an interesting move, Lodsys alleges that the violation of two of its patents occurs in not just iPhone apps, but Android and Mac apps as well. At present, it appears that at least a few of the developers who received letters from Lodsys have escaped this round of lawsuits; several of the named defendants are based outside of the U.S.
The legal action follows a series of back-and-forth claims and counterclaims by Lodsys and Apple. In its letter to Lodsys last week, Apple maintained that the company "is undisputedly licensed to these patents and the Apple App Makers are protected by that license." Despite Apple's position, Lodsys has gone ahead and disputed the claims anyway, stating that it has been engaged in confidential discussions with Apple and that "there was clearly disagreement on the interpretation of the license terms of Apple's agreement."
On its Website, Lodsys also says that it has sent a letter to Apple containing its full legal position, but cannot publish the communication, as it contains confidential information from Apple. Macworld has reached out to Apple for comment, but has not received a reply as of this writing.
Lodsys seems pretty sure of its position however. The company has promised that it will pay $1000 to any developer that it has accused of infringement if it is determined that Apple's license covers third-party developers. Then again, that fee may pale next to any costs incurred during a protracted legal battle.
And the intellectual property firm isn't restricting its tactics to the courtroom, either. Of the several posts to Lodsys's Website on Tuesday, the most interesting is probably " What is the platform promise?," which veers into a more philosophical realm:
The real debate is what promise [Apple, Google, and other platform providers] are making to 3rd party Developers who choose to develop applications on that platform and what kind and scope of IP rights will be included (or more likely, not).
The post reads as a somewhat clumsy attempt to drive a wedge between Apple and its developers by suggesting that not only is Apple's liability in legal matters limited, but also that the company doesn't care about its developers.
That's a tone reflected in another of Lodsys's posts, addressing the question of "Why are you targeting Apple developers or Android developers? Why are you picking on small developers who cannot defend themselves?", in which Lodsys suggests that its motivation is simply "to get paid for [its] rights," whereas there's "a more complicated set of motivations" for the platform providers and developers.
Whether these sorts of psychological argument will pay off—presumably by convincing developers to license Lodsys's patents—is unclear, but by taking the matter to the courts, Lodsys has clearly said that the next move belongs to Apple and developers.