When it comes to printing images at home—whether they be drawings, graphic art, or photos—the cost of paper and ink add up quickly. That's why it's handy to know how to print several images on the same page.
Aside from printing contact sheets—a grid of thumbnails that's great for quality comparison or even test prints—or distributing images of different sizes to friends, this technique is useful for showing off your work in a mini-portfolio. In this article you'll learn how to print multiple images per page using iPhoto, Adobe Photoshop Elements, Adobe Bridge, and Photoshop CS4 and CS5.
iPhoto '11
Printing multiple photos per page is easy in iPhoto, though there's a slew of options to wade through. Start by highlighting the photos you want to print by Shift- or Command-clicking them (it doesn't matter if you're in Events, Photos, album view, or even Edit mode). Choose File -> Print (Command-P) and iPhoto opens the Print Settings pane. The important thing here is to understand the difference between a photo layout and a page; each photo layout holds up to four photos and each letter-sized page can hold two of those photo layouts. Pick a customizable theme from the list on the left—either Simple Border, Simple Mat, or Double Mat—and then use the "Page 1 of 2" arrows in the pane to scroll through page previews. At the bottom you can pick paper size and print size (in other words, what size layout you want printed on that size paper).
Click Customize and you'll land inside a mini page-layout view where you can fine-tune the photo zoom level and location within its placeholder (click a photo to summon the Zoom slider; click within the photo to move it around inside the frame). At the top of the window, you can choose to see thumbnails for the layouts themselves, or thumbnails of the photos for printing. Drag a photo down into one of the placeholders to replace what's there, or drag the same photo into multiple placeholders to print multiple copies (like a school portrait package). Use the buttons in the toolbar to switch themes, change background and border colors or styles, and choose the number of photos included in each layout.
If a photo needs editing, you can double-click it or click the Adjust button. Settings lets you tweak caption font and size, turn on "Show crop marks" (handy if you'll use a paper cutter to separate the images), and more.
Until you print your photos or click Cancel, you'll spot an icon in your Source list called Printing. This lets you do other iPhoto work and then return to your print job by clicking the Printing icon. You can also add new photos to the printout by dragging their thumbnails onto the Printing icon. When you're ready, click the Print button near the toolbar and you'll see a standard Print dialog which lets you choose a printer, number of copies, and so on. Click Print and you're done.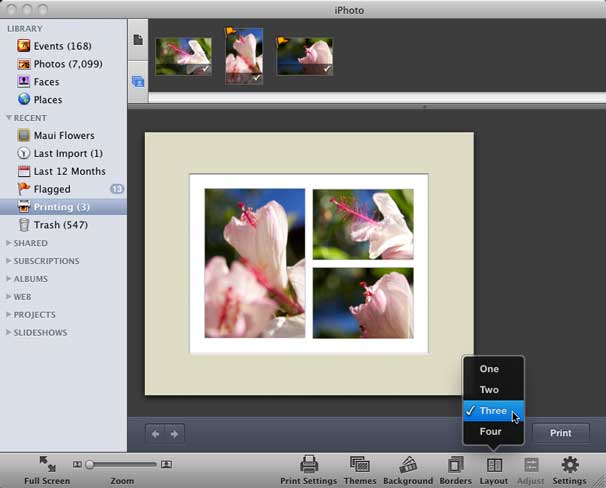 Photoshop Elements
Adobe Photoshop Elements uses the Picture Package and Contact Sheet plug-ins that used to come with Photoshop CS (more on that later). Open an image to print and choose File -> Picture Package. In the resulting dialog, pick a paper size and layout from the pop-up menus. Elements immediately populates the preview placeholders with the same image, though you can change it by single-clicking any image and navigating to a new one using the resulting Open dialog.
When you're finished, click OK and Elements combines your images into a new document at the appropriate sizes. Choose File -> Print and in the resulting dialog, choose your printer, paper size, and print size from the pop-up menus.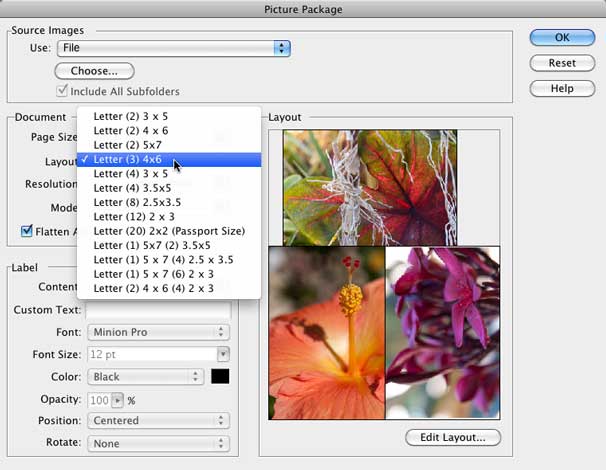 Adobe Bridge
Adobe Bridge is an image-browsing and organization powerhouse that's been shipping with Photoshop for years (it used to come with Elements, too). While it would be tough to use Bridge to produce prints of a certain size, it's perfect for creating contact sheets.
Once you've launched Bridge, navigate to the images you want to print using the Folder panel on the left, and then select individual images by Shift or Command-clicking them in the Preview panel in the center. (This description assumes the default Filmstrip workspace.) At the top of the window, click the Output button to cause the mile-long Output panel to open on the right. Click the PDF button at the top and then choose a template from the pop-up menu. To see a preview of your PDF document, click the Refresh Preview button near the top of the Output panel. While the template menu doesn't give you many options, you can tweak the various settings to create a contact sheet of your very own.
Happily, Bridge CS5 lets you save your settings as a template by clicking the tiny icon to the right of the template menu. When everything looks good, click the Save button at the bottom of the Output panel and Bridge exports your file as a PDF you can print.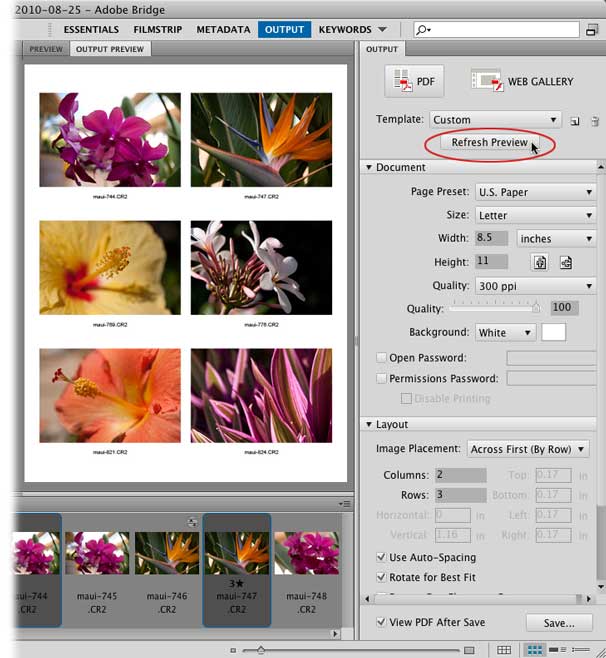 Photoshop
Sadly, your days of using Photoshop to print multiple images at popular sizes on a single page ended with CS3—that is, unless you download and install some optional plug-ins that give you that ability. Once they're installed, restart Photoshop and then choose File -> Automate -> Contact Sheet II or Picture Package. (If you're using Photoshop CS5, be sure to open it in 32-bit mode by opening the application's Get Info dialog and turning on the 32-bit checkbox).
In the resulting dialog box, configure either Contact Sheet II or Picture Package to your heart's desire. Preview your handiwork, grin smugly at your cleverness, and click Print.
Start printing
Of course, there are numerous third-party options, too, such as the free Portraits & Prints, that can do many of the same tasks as above. Portraits & Prints comes with several templates that let you arrange different pictures at different sizes on the same page (you can even save your layouts as catalogs so you can reuse or reprint them later). No matter which program you choose, it's great to know that printing multiple images per page can help with your photo printing, distribution, and display tasks.
[Lesa Snider, author of Photoshop CS5: The Missing Manual (Pogue Press/O'Reilly) and co-author of the upcoming iPhoto 11: The Missing Manual (Pogue Press/O'Reilly), records training videos for KelbyTraining.com and Lynda.com, is chief evangelist of iStockphoto.com , a long-time member of the Photoshop World Instructor Dream Team, and founder of GraphicReporter.com .]