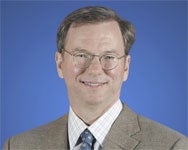 This week I'm at the Wall Street Journal's D9 conference in Rancho Palos Verdes, California. The event features a series of tech luminaries interviewed by Walt Mossberg and Kara Swisher, of the Journal's All Things Digital Website. Last night's kick-off interviewee was Eric Schmidt, formerly CEO of Google.
Schmidt, who now sits on the Google board and deals with external issues relevant to the company—"deals, evangelism, government," in his words—had a lot of fascinating things to say, and if you've got time I recommend watching the video. But I thought I'd call out a few of the things he said—mainly about Apple, because that's how I roll.
When Mossberg asked Schmidt about the Google relationship with Apple, the former executive admitted that it can be testy. "It started off as very much a partnership"— Schmidt was on Apple's board of directors for three years—"but now with Android it's much more rough. We have a partnership with them and we compete with them. We have a very good search partnership and a very good maps partnership, but we compete" when it comes to smartphones.
There's nothing unexpected in any of that, but Schmidt did drop one tidbit when Mossberg asked if he expected those mapping and search relationships with Apple to continue. "I certainly hope so," said Schmidt, adding that "we just renewed" both the map and search deals with Apple.
That's interesting news, considering reports that Apple has been busily building its own maps infrastructure. Of course, nobody knows what the details of those deals are. It's possible, for example, that Apple has an opt-out clause. Or perhaps Apple is content with the quality of Google's services—for now.
Schmidt also spent a little time talking about what he called the "Gang of Four"—Google, Apple, Amazon, and Facebook. These are four companies that, in Schmidt's estimation, all have a size and global reach that just ten years ago would have been the provenance of a single company (Microsoft, and before them, IBM).
"We've never had four companies growing at the scale that those four are in aggregate," in customers, cash flow, reach, partners, software development tools, and so on, according to Schmidt.
Note that Microsoft isn't among those four. That's not an oversight: "Microsoft is not driving a revolution in the minds of consumers," said Schmidt. It's quite a fall from a company that only a decade ago seemed to have the tech industry by the throat.
But Schmidt didn't shy away from his own shortcomings. The former CEO admitted that he "screwed up" when it came to dealing with Google's lack of success in creating a social-connection system. Meanwhile, Facebook has succeeded at creating its own "social graph," as well as rolling out the Facebook Connect system and the Like button.
Swisher said that Steve Jobs told her, sotto voce, that "an Android phone is a probe in your pocket. We could do that, too, but we don't have a search engine to suck it back into." Schmidt denied that secondhand accusation: "We don't suck it into anywhere," he said.
The bottom line, Schmidt said, is that when it comes to phones, "the Apple model is the inverse of the Google model. The Apple model produces beautiful products with a specific market size and share. The Google model is just the inverse. It's OK. Let the market decide. It's called competition."
But when it comes to that competition, Schmidt suggested that it'll be hard rowing for platforms other than iOS and Android, just because of the sheer amount of time it takes to develop for those two platforms. He took a shot at the "closed nature of iOS" a few times, but also said that in maybe ten years all apps will be built using HTML5 and related technologies, because all platforms (including Google's and Apple's) support it.
Finally, regarding the recently-announced Google Wallet initiative, which allows you to buy stuff with your smartphone, Schmidt said that there's "no intent to favor just one platform." In other words, don't be surprised to see Google Wallet support come to the iPhone eventually.
But even there, Schmidt couldn't help but taking a parting shot at Apple: While answering an audience question about integrating Google's voice-recognition systems into iOS, he said Google has to be careful in developing apps for other platforms, because they might waste their time building an app that would just get rejected.
All in all, it was an interesting interview with lots of talk about privacy and security issues, and I recommend that you watch it if you get a chance.