Twitter just got a whole lot more visually interactive: On Wednesday, the company announced a completely reinvented version of its search feature at the D9 conference. Now, users who search for words and hashtags will see not only related text tweets, but also user-posted pictures and video related to those keywords.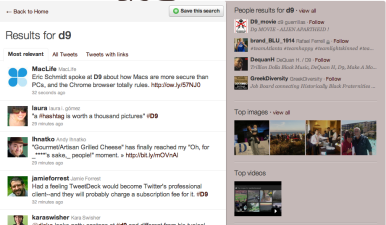 Like many of Twitter's features, the improved search is gradually being rolled out across the service's user base. If you're one of the lucky few users to have the feature, then when you search for a term, you'll see the usual list of resulting tweets, categorized into three sections: Most relevant, All Tweets, and Tweets with links. "Most relevant" seems to cull tweets from popular users, while "All Tweets" focuses on anything with the searched keyword, and "Tweets with links" only shows those relevant results that also include URLs.
In addition, the right column will show you username results for your keyword, as well as two new categories: Top images and Top videos. Click the "view all" link, and you'll be brought to a gallery where you can see thumbnails of all the images or videos tagged with your search term; alternatively, you can view the photos as a slideshow, highlighting one image—and its associated tweet—with other thumbnails arranged in a row above it.
Currently, the highlighted photos and video are those hosted on third-party services such as yfrog and Instagram, but users will soon be able to upload photos and video directly to Twitter's Website (and presumably through the company's official platform apps, as well). Users retain the copyright for photos they upload, and the actual storage is being provided by online image service Photobucket.
Having had a chance to play around with the new photo search myself, I think it has a lot of potential for making you feel like a part of an event, even when you can't be there in person: Seeing that instant collection of images from the D9 conference gave a sense of presence that 140 characters can't quite convey.