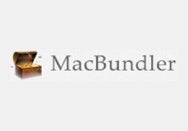 There are few things in the Mac software landscape as constant as the regular appearance of apps packaged as bundles and sold at heavily discounted rates. The latest one comes to you courtesy of the aptly named MacBundler. Dubbed MacBundler 6, it features ten great Mac applications for the low price of $50, which constitutes a significant discount on their total retail value of $392.
The bundle consists of Eye Scream Factory's DVD Art Professional, an app for designing DVD menus and packaging using a set of built-in themes and templates; publicspace.net's Big Mean Machine Folder, which lets you manage files and folders in the Finder using sophisticated hierarchies; Mariner Software's MacJournal, for keeping a digital journal of the important and not-so-important events in your life; Tao Effect's Espionage, a straightforward encryption tool for use with the Finder; and other assorted apps such as Vitamin R, Inpaint, Boris Continuum Uprez, Client Folder Maker, The Secrets of Da Vinci, and Easy Frame.
The promotion is set to run for a period of two weeks starting on June 1. And, to sweeten the pot further, the company is offering the first five hundred buyers an eleventh app, Yellow Mug's FolderBrander, for free. Hope on over to the MacBundler website to lay your hands on the bundle before the clock runs out.