On Wednesday, Avast Software announced the launch of a beta version of its new antivirus software for Mac OS X. The app is being touted as an almost complete rewrite of Avast's existing Mac security software; Ondrej Vicek, Avast Software's CTO, announced that the final version of the product will be free. A launch date and final name for the software is set to be announced shortly.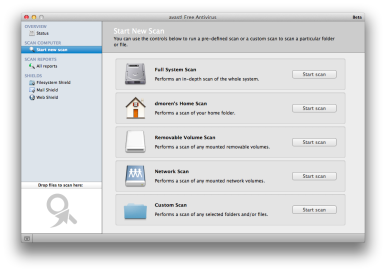 The Mac security scene has heated up in the past couple of weeks, primarily due to the appearance of a nasty Trojan horse called Mac Defender and Apple's subsequent release of a Snow Leopard security update that targets that malware, as well as beefing up protections against future pieces of nasty software.
Given that Macs now feature rudimentary built-in malware support, some users will no doubt turn to third-party software for more advanced functionality. Avast's new new Mac offering seems to offer a variety of more in-depth protection. For example, it allows the user to run a scan of the whole filesystem, including networked volumes, at will. The app's File, Web, and Mail Shields enable the app to, respectively, monitor changes to the user's files, keep a watchful eye on all incoming HTTP traffic, and filter POP3 and IMAP-based e-mail to alert users to the presence of harmful files. It will also display Growl notifications to keep users informed of potential threats and the steps it is taking to keep them safe. And naturally, it will automatically keep its scanning engine up to date, in order to stay on top of the latest threats faced by Mac OS X.
Avast Free Antivirus for Mac Beta is compatible with all Macs running Mac OS X v10.5 and later and is available as a free download (direct link) from the company's website. As with all beta software, we'd suggest you exercise caution; after installing it, one Macworld editor found that his network connection became unresponsive until he uninstalled it again.