Mobile movie- and music-makers can add a few new tools to their toolbelts: On Wednesday, Apple released updates for GarageBand for iPad and iMovie for iOS, adding new import options for the first, performance fixes for the latter, and AirPlay and HDMI support for both.
Of the two apps, GarageBand for iPad received the more robust update. In a move that's certain to excite GarageBand users, the update adds the option for importing external audio into the app. Users can do this one of two ways: They can either copy and paste audio from another app directly into their song timeline, or import AIFF, WAV, CAF, and Apple Loops files from their computer using iTunes File Sharing.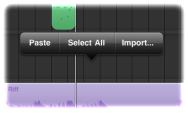 Either import method will bring songs into the app at CD-quality, if available. To paste a clip, just tap and hold on an empty track to bring up controls. To import, you'll first need to add audio files to your iPad and the GarageBand app via iTunes' File Sharing section; after doing so, you can then paste them into the timeline by adding a new audio track and tapping and holding on the empty track to bring up the Import menu. Apple provides more detailed step-by-step instructions in a Support document posted to its Website Wednesday.
The company has also added support for its AirPlay standard into the app, as well as audio output via Bluetooth or HDMI (using the Digital AV Adapter). You can enable this by going into the Song Settings pop-up menu and tapping the AirPlay – Bluetooth – HDMI switch to On. While enabled, you'll be barred from recording any audio input; as such, you'll most likely use this output for mixing or showing off your creation rather than in-process recording. In addition to these new features, the update promises to address freezes while playing Smart Instruments as well as overall stability within the app.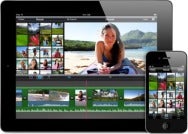 Meanwhile, iMovie for iOS has been updated to version 1.2.1. It, too, receives support for playing videos over Apple's Digital AV Adapter; in addition, the update focuses on fixing bugs found in previous releases. The new version promises to resolve some cases of missing video clips within projects and organize clips by date more accurately; fixes a problem with improperly faded background music; and provides additional unnamed performance enhancements for the app.
Both updates are free for current app owners; you can download either via iTunes or by heading over to the Updates tab in the App Store on your iPad.