All apps exist to serve a purpose. If an app fails to live up to that purpose, everything else—the design, the navigation, any other bells and whistles—is just a lot of noise. Ultimately, an app has to be judged on whether it delivers on what it promises.
1800Flowers, an app from the floral delivery company of the same name, exists so that you can order flowers directly from your iPhone or iPod touch and have them get delivered to a lucky recipient. Yet, when I used 1800Flowers to order a bouquet for my wife, the flowers never arrived. Therefore, it is hard to regard 1800Flowers as anything other than an abject failure.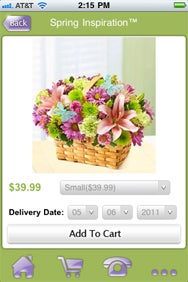 I mean, I could talk about the app's interface, which is clunky and turns searching for flowers into a chore. 1800Flowers's home screen features a horizontally scrolling list of specials on top of a vertically scrolling list of categories. Tapping on either will—after some loading time elapses—summon a list of results that you can view in list or grid form. Tap again on a product and—after more loading time—you'll get a picture and description; you can also pick a size and a delivery date, and add the order to your cart. You can't search for specific arrangements or save items as favorites—flaws that ultimately didn't matter to me, since my order was never delivered. (In fairness to 1800Flowers, you can email a link to a particular arrangement for later reference.)
Placing an order via 1800Flowers is just as awkward. The app summons up a list of data fields for the name and address of your recipient; tapping them in is a painful process, especially since the on-screen keyboard covers much of the interface. You can import contact information from your phone's Address Book, which alleviates the frustration somewhat. The process is just as tedious when it's time to enter billing information, though registered 1800Flowers.com users can log into their account through the app. In a tacit acknowledgement that tapping in all this information can be a bit of a headache, 1800Flowers includes a button for calling up the service to place your order over the phone. There may be a way to include a note or a card with your order, but I didn't notice one when placing mine. No matter, really, since—and I'm not sure if I've emphasized this enough yet—1800Flowers never actually delivered what I ordered.
Once you place an order through the app, you'll get a confirmation e-mail. It was the most convincing work of fiction I've read in some time.
So, about that non-delivery—the confirmation e-mail from 1800Flowers.com includes a link that will take you to a customer service form on the company's website. (There doesn't appear to be a way to track orders or contact the company through the app, save for that button which places a phone call.) It took me two e-mails to get the company to agree to refund my money—initially, 1800Flowers offered a $20 discount on future orders which it may or may not have bothered to deliver. A quick glance at customer reviews of the 1800Flower app in the App Store suggests I didn't just happen to catch the company on a bad day; there were a fair number of user reviews citing experiences similar to mine.
Apple has made a quite name for itself in the past few years with its stringent App Store restrictions, putting the kibosh on apps that use salty language, feature controversial content, or deviate in any way from the letter of its app guidelines. Perhaps, Apple would be better served by tightening its reins on apps that don't deliver on the goods they promise while charging you for the privilege. If my experience is any indication, 1800Flowers would be one of the first apps booted out the door. Until then, there's no way I can recommended 1800Flowers, except as a perfect example of a failed app.
[Philip Michaels is the executive editor of Macworld.com.]