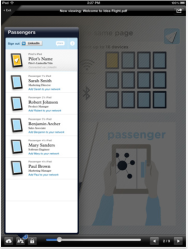 Condé Nast on Wednesday launched Idea Flight, a new app that aims to give you more control over your business meetings or classroom lectures by letting you dictate the flow of your presentation using your iPad.
With Idea Flight installed and running on the iPads of all the attendees at your sales pitch or product demo, you can steer them through the individual slides in a PDF presentation from your own iPad, allowing your listeners to focus on your talk. Idea Flight ensures that the attendees (or passengers) cannot swipe ahead to upcoming slides, thus giving you (the pilot) strict control over the structure of your presentation.
The app allows up to 15 passengers to tune in to a presentation wirelessly, either via Wi-Fi or Bluetooth. It enables you, as the pilot, to import a copy of your PDF into the app via Drobpox, iTunes File Sharing, or e-mail, and allows you to leave a copy of your PDF on the passengers' iPads once the presentation is concluded.
The app features LinkedIn integration, which allows all attendants to see the names, photos, and titles of each other and "connect" to their fellow participants on the social-networking site. Idea Flight is localized in eight other languages besides English at launch.
For the passengers in any session, Idea Flight is a free download from the App Store; its piloting features can be unlocked by making an $8 in-app purchase. Idea Flight is compatible with iPads running iOS 4.2 or later.