If you're attending Apple's Worldwide Developers Conference next week, you'll want to pick up the official conference app, released Thursday for both the iPhone and iPad, and check out new updated information on the WWDC Website.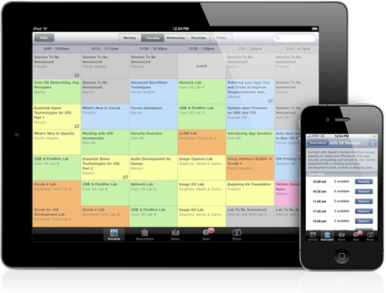 The free app—aptly named WWDC—allows you to navigate, schedule, and read all about the happenings at San Francisco's Moscone West next week. It contains a full schedule and the location of all sessions, labs, and official after-hours excitement; you can create your own customized schedule by favoriting the events you wish to attend, and even book time in advance to speak with an Apple engineer at one of the User Interface, App Review, iTunes Connect, Program Support, or Developer Publication labs.
You'll also be able to keep yourself updated on all the latest conference news and browse through any official images from show photographers. Unfortunately, access to the app is limited to those attending WWDC: if you're stuck at home, you won't be able to envy the session list from afar (for whatever good it would do you).
Whether attending the conference or not, you can also check out all the details on Apple's WWDC Website, also updated Thursday. Among other things, the site offers the latest news on this year's conference; an in-depth attendee guide with some helpful tips (in case you haven't been paying attention on Twitter); the full schedule of sessions and a labs overview (conference attendees only); information on big events like Monday's keynote or the annual Stump the Experts panel; an in-depth FAQ, if you're curious about Apple's policy on photography, the Apple Design Awards, and other such information; and a complete floor plan (for those that get easily turned around).
The WWDC app is available to download for free from the App Store for any iPhone, iPod touch, or iPad running iOS 4.2 or later.