iOS 5 may share the stage with Mac OS X Lion during next Monday's Worldwide Developer Conference keynote, but Apple's two operating systems arrive at the developer get-together in very different states. The latest Mac OS X update has already gotten its own on-stage preview and seen multiple developer releases come and go. iOS 5, in contrast, remains shrouded in Apple's customary invisibility cloak. The mobile OS update is what a former government official might call a "known unknown."
We've detailed what you can likely expect from Lion's debut, but for iOS 5, we've had to don our deductive reasoning caps and venture hypotheses as to what, exactly, Cupertino has in store—and whether the new version will address any of iOS's current shortcomings.
In the past, we've written about the big picture items we'd like Apple to roll out, as well as some of the subtler changes, but as we all know, Apple will do what it wants to. And so, in advance of the big show next week, we thought we'd run down ten features that we think might be coming to iOS, along with their relative chances for making Apple's cut.
Notifications: Make no bones about it, if there's one thing we hope to see in the next major version of iOS, it's an improved notifications system. iOS's current use of alerts and notifications is functional—but only just. The one-dialog-at-a-time approach can lead to a cavalcade of alerts, when all you want to do is check your e-mail. Not to mention that all too often you find yourself accidentally having dismissed that one note you wanted to read.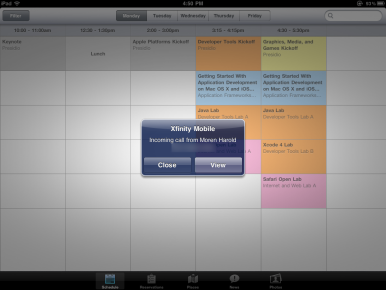 Palm's webOS and Google's Android operating systems have both dealt with this challenge in a better—if still imperfect—fashion, providing unobtrusive and expandable trays to keep track of notifications and allow users to deal with them when they see fit.
The question is what such a system will look like on the iPhone. Far be it from Apple to merely ape what its competitors have done. In true Cupertino fashion, we expect to see a clever solution that fits with iOS's design ethic, though we'd also wager there will be a few ways in which it falls short of our hopes and dreams. Chances: Likely.
Cloud integration: As we've already heard, at least part of the WWDC keynote will be devoted to Apple's new cloud services offering, cleverly dubbed iCloud. We can't imagine the company would roll out any sizable initiative of this sort without tying the service to its insanely popular mobile platform, but the question remains what that integration will look like. The inclusion of some sort of media streaming seems a no-brainer, but will it also include file sync capabilities? We'd certainly hope so; dealing with moving files between your iOS devices and your Mac feels decidedly last century, and if iCloud is even partially the MobileMe successor that we're hoping for, then it will replace Apple's flawed iDisk with something that looks a lot more like the super-successful Dropbox. Chances: Bet on it.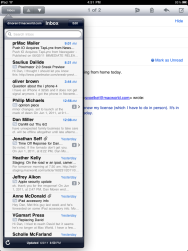 Mail improvements: Of all of the core iOS apps, Mail has arguably gotten the most love over the years. It seems like every major iOS update has improved Mail in some fashion, and that's no shocker; not only is checking e-mail one of the most common tasks people use their iPhone for, it's also probably the one included app for which there really isn't much in the way of third-party competition.
So what's left to add to Mail? Well there are plenty of candidates, including the ability to flag messages, the ability to mark multiple messages as read, sending messages to contact groups, and the inclusion of multiple signatures. An overhaul of the portrait view for Mail on the iPad wouldn't go amiss either.
While not all of these will find their way into iOS 5, given the history of Apple's frequent revisions to Mail it's a good bet some of them will. Chances: Some Mail updates likely.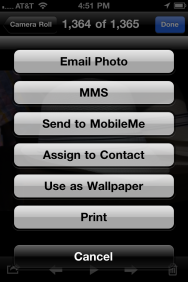 Systemwide Twitter integration: A late entry to the field, prompted by rumors last week, is that systemwide integration with social-networking service Twitter will appear as part of iOS 5's underlying technologies. This might manifest in a couple of ways: As an option in the Camera app for sharing pictures and videos to the service, for example, and also as an API for developers to add Twitter integration to their own app. Right now, that process requires programmers to reinvent the wheel every time, and with Twitter's new, more stringent third-party client rules, it's only going to become more onerous. But if Apple and Twitter strike up a deal, it might become easier for everybody all around. Chances: Mixed.
Expanded voice recognition: iOS's Voice Control feature debuted in 2009's iPhone 3GS. It was a welcome feature, as up until that point, you had to spend time fiddling with your phone if you wanted to make a call—not a particularly safe practice if you were, say, driving a car. But Voice Control is limited, and looks especially paltry when stacked up against Google's Android platform, which allows you to use your voice pretty much anywhere you can type. Now, I have no desire to start whispering seductively to my smartphone, as one of my Droid-toting friends is fond of doing, but with Apple's 2010 acquisition of personal assistant software Siri and rumors of a deal with speech-recognition specialists Nuance, signs do seem to point to expanded voice recognition throughout iOS—and that'd be the talk of the town. Chances: Fair to middling.
Background downloading API: It sounds a bit technical, but before your eyes glaze over, let me explain how this is just what you're waiting for. iOS 4 introduced the ability for apps to take advantage of a finite number of background tasks—that's how Pandora can keep streaming even when you're checking your Mail or how you can keep talking on Skype while you check something on the Web. But the one thing that the third-party apps can't do is just download information in the background. So your tweets don't get updated until you launch your Twitter client, your feeds don't refresh until you launch your RSS reader, and so on. There's no reason Apple couldn't decide to implement a system where apps register their request for new information, and then download said information when the system is idle. Does that mean Apple will actually do it, though? Chances: Maybe, just maybe.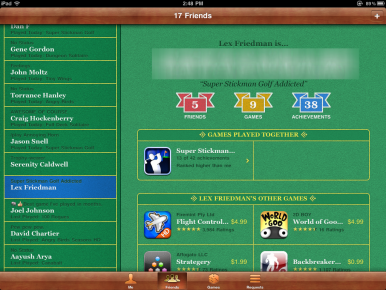 Game Center 2.0: iOS's answer to Xbox Live rolled out in iOS 4.1, and while it's finally started to see some traction from game developers, the service's shortcomings have become all too apparent. A lack of built-in messaging, no persistent location for missed invites, lackluster customization and social features—all of these add up to a screaming need for a major revision. iOS has become a major game platform, and Apple needs to go beyond just acknowledging it to outright embracing it. While the company's at it, it should look to step up even further and add a service that lets you sync your games between iOS devices. And, dare we even suggest the idea, how about a Game Center for Mac? Chances: Low, but fingers crossed.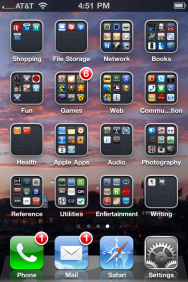 Springboard revisited: You might call iOS's Home screen one of its most iconic features, but it's also gotten a bit long in the tooth. Even iOS 4's addition of folders only have barely helped most iPhone users tame their proliferating apps, and if you're a serious app user, then you know this more than most. It's time for Apple to admit that the Springboard, as the Home screen's behind-the-scenes system is dubbed, was designed for a world with just a dozen or so apps and is out of its depth when the App Store offers around half a million. The place to take a cue here, surprisingly enough, might be Microsoft, which has really tried to focus its Home screen in the Windows Phone 7 OS on what people want to do when they pick up their phones. But reversing the polarity on Redmond's copy machine might be a tough pill for Apple to swallow, especially when it's already committed to bringing the same experience to the Mac OS with Launchpad. Chances: Not looking good.
FaceTime 3G: Every Apple device has FaceTime these days, from your iPhone, to your iPad, to your Mac. But in every case, it's still limited to when you have a Wi-Fi connection. When it announced the video chat feature at last year's WWDC, Apple said it would investigate bringing the feature to 3G connections too, so why not now? Then you can have lovely video conversations with your family and friends no matter where you are. Then again, given the sometimes shoddy connections we've seen over Wi-Fi, 3G might still be a ways off. Chances: Don't bet the farm.
Widgets: You might group this with notifications or a Springboard refresh, but what the heck? Let's break it out. Wouldn't it be great if you could glance at your iPhone's lock screen and see an assortment of useful information? I'm thinking of things like the weather forecast, the status of your stocks, any missed e-mails or calls, the latest breaking news, and so on. Think of all the information you could garner without even delving into apps. Great, right? Sounds like Mac OS X's Dashboard, only perhaps even more useful. Well, I'd find it handy anyway, and why shouldn't Apple cater to me? Chances: The same as a snowball's in hell.
Of course, these are only just a few selections that skim the surface of what a major iOS update might include, and Apple has been known to come up with a surprise or two in its time. We'll know a lot more about iOS 5 come Monday morning—and probably have an updated wish list of features come Monday afternoon.
Serenity Caldwell contributed to this story.