Apple gave us our first glimpse at Lion, the next incarnation of the Mac OS, last October. Over the past few months, bits and bobs about the new OS have slowly come out—in part due to a series of developer betas—in preparation for its release this summer. Now, it looks like the big cat's about to come out of the bag once and for all: Steve Jobs himself will unveil the OS to developers and eager onlookers alike during Apple's Worldwide Developer Conference keynote address on June 6.
We'll have a liveblog of the keynote when Steve Jobs takes the Moscone West stage at 10 a.m. PT on Monday. In the meantime, here's a quick refresher on everything we already know about Lion, so that you're up to speed in time for the WWDC keynote.
(As for other features that could find their way into Lion, we've complied our wish list of Lion features we'd like to see.)
iOS-ification
On Apple's Web page for Lion, the tagline for the new OS reads: "The power of Mac OS X. The magic of iPad." The company has taken that slogan to heart: Even going solely by Apple's short preview last October, it's undeniable that iOS has dramatically influenced Lion in both feature and design—it's as if Apple's developers ripped features from iOS for Lion the same way Law & Order's writers rip stories from the day's headlines.
It's just a swipe to the left: If you're still holding out for a touchscreen Mac, we have good news and bad news. The bad news is that you're going to have to wait a long, long time. The good news is that you can still get your multitouch fix—without suffering painful arm fatigue—thanks to Lion's many new OS-wide gestures. Rather than directly interacting with your Mac's screen, you'll instead use an input device like Apple's Magic Trackpad (or, if on a laptop, a built-in trackpad) to swipe, pinch, zoom, and scroll. ( Far fewer gestures will work with the Magic Mouse.)
While Lion supports plenty of brand new multitouch gestures, some are more familiar. For example, you can double-tap (or pinch) to zoom on Web content in Safari. Lion also carries over one of OS X's earliest multitouch gestures—two-finger scrolling—with an iOS twist: By default, Lion documents scroll in the opposite direction, as if you're pulling or pushing the content up or down. In other words, Lion's default two-finger scrolling behavior works more like iOS scrolling than Snow Leopard scrolling. There's an option to turn that behavior off if it throws you for a loop—for now, anyway.
Ready, set, Launchpad: Talk about being ripped from iOS: Based on what we've seen of Launchpad, this new Lion feature looks almost entirely like someone copied an iPad's Home screen and stuck it on the Mac. You can see your entire application library laid out in icon form, arrange folders, scroll through pages, and rearrange apps as you see fit.
Windows users who transitioned to the Mac after falling in love with their iPhone may very well take a liking to Launchpad's Home screen-like interface; for experienced users with oodles of applications, however, it may prove too unwieldy for general use. As anyone who's accumulated a few pages of apps on the iPhone can tell you, it's a lot easier to just give up and use Spotlight rather than play the app-finding equivalent of Where's Waldo. That said, Launchpad seems primarily aimed at iOS switchers, and those of us who prefer the comfort of the Finder can easily ignore it.
Fullscreen press: The Mac has long displayed your applications in adjustable, positionable windows. In contrast, on the iPhone or iPad, apps fill up the entire screen. While Lion keeps the basic Mac windowing functionality we all know and love, it also introduces an iOS-inspired compromise: fullscreen applications. Click a button, and your program's window will fill up your screen—eliminating the Dock and top menu bar—so that you can focus singularly on the task at hand. In fullscreen mode, the application behaves like a devoted Spaces desktop; to switch back to your Desktop and other windows, you can use one of Lion's new multitouch gestures, or a keyboard shortcut like Command-Tab.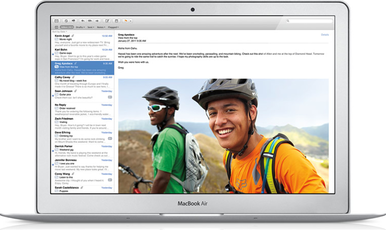 Many of Apple's core applications—like Mail, Safari, and iCal—will support fullscreen mode from the start, but third-party software developers will have to update their apps before taking advantage of the feature.
Freeze and resume: Nothing's worse than having to stop something—say, browsing in Safari—to restart your computer, only to lose all the tabs and windows you were looking at. iOS solves this problem by allowing your apps to "freeze" their state upon exit or shutdown, allowing them to resume at the exact place you left off. With Lion's Resume feature, Mac owners can look forward to something similar: When you relaunch an application on Lion, your Mac will attempt to restore it—windows, information, and all—to its previous state just before you quit. Similarly, when you restart your Mac—say, after installing something via Software Update—Lion will relaunch each program you had running and attempt to resume its last saved state.
Always on: With iOS, Apple has more or less been able to eliminate the notion of "running" apps versus "closed" apps. Now, it seems as if the company is attempting in part to translate that idea to Lion: By default, the OS eliminates the tiny blue indicator lights under applications in the Dock that let you know whether a program is currently running. While you can turn those lights back on in the Preferences pane if you so desire, it's yet another sign that Apple would like to blur the line between open and closed applications for the average consumer as much as possible.
Application duplication: Just as the Mac's Safari and Mail influenced their iOS counterparts when first introduced, it would appear that the pattern is coming back around. Several of the Lion applications previewed bear a striking resemblance to their iOS siblings. Both iCal and Address Book appear to have been reskinned to more closely follow Apple's skeuomorphic focus, while Mail has gained the multiple-pane interface of its iPad cousin. Also sure to please Mail users: a three-column interface, conversation view, and improved search functionality.
iOS et ceteras: Lion's iOS-like quirks extend far beyond its hallmark features. On the typing front, Lion will feature iOS's auto-correction-as-you-type in addition to inline dictionary definitions and a new international accents menu (accessible by holding down the key you'd like to accent). The OS will also retire the Mac's familiar scrollbar of old, replacing it with an iOS-style hovering scrollbar that appears only when you initiate a scrolling action. Some graphics—like the pointer itself—have been vectorized, for better Universal Access support. And, of course, the Mac App Store— which first debuted in January as part of Mac OS X 10.6.6—will be on full display in Lion.
But wait, there's more
Apple may have dipped into the iOS pool for a few ideas, but there are still plenty more new Lion features that take no influence from the company's mobile OS. Take Mission Control—Apple's master-collection reinvention of Exposé—for example, or AirDrop, which will allow for easier file sharing between nearby Macs; additional features like Versions and Auto-Save will keep your files (and their past revisions) safely saved.
In practical use, Versions and Auto-Save will most likely affect your workflow the most: You'll soon find yourself kicking your Command-S tick to the curb, as your Mac—like Google Docs before it—now automatically saves your files as you work on them. You can even go into your document's past—no Time Machine necessary—with Versions to browse all previously saved iterations. (That being said, you'll still want to back everything up to an external source; if your hard drive fails, after all, Lion's automated backups fail right along with it.)
Lion also heralds the end of an era. Unless Apple pulls a switcheroo sometime between now and the operating system's official release, reports from the developer previews indicate that Rosetta, Apple's emulation technology for running PowerPC-designed apps on Intel hardware, won't make the journey to Lion. This move has seemingly been a long time coming: Apple hasn't sold a Mac with an IBM PowerPC chip inside it since 2006 (and dropped future OS support for those systems with the release of Snow Leopard in 2009). As such, software developers have now had almost five years to update their applications to run properly on Intel's hardware—and most of them have. For those still using older software like Word 2004, Quicken 2007, Macromedia FreeHand, or other bygone versions of such titles, you'll be faced with a difficult decision when Lion rolls around: To keep using your preferred application, you'll have to lock your Mac at 10.6; otherwise, you'll need to think about upgrading your workflow along with your operating system.
And let's not forget iCloud. Apple hasn't said yet just what iCloud is, but it may well underlie much of the new OS. Until Jobs speaks, we can only guess at what iCloud will bring.
The answers, my friend…
Of course, Lion's feature set isn't final until Apple says it is. WWDC isn't meant to serve as a true formal introduction for the new Mac OS, but it will provide our most intimate look yet at any other features Apple is planning—along with specifics on that ever-elusive release date.