At a Glance
Expert's Rating
Pros
Protects the iPad in routine circumstances
Provides added protection with sporting activities
Impact resistant
Gets soft and pliable over time
Lightweight
Our Verdict
For everyday trips to work and school or to your friend's house, the G-Form iPad Extreme Sleeve will offer real protection to your iPad.
At first glance, the G-Form iPad Extreme Sleeve looks like a Teenage Mutant Ninja Turtle—not that there's anything wrong with that, but it's an unconventional look for an iPad case. Most cases are more streamlined, lightweight, decorative, or some combination of those three.
But the $60 G-Form Extreme Sleeve—available in black or screaming yellow—is not called Extreme for nothing. This sleeve focuses on form above fashion, is ready for action of the athletic kind, and is designed to protect your iPad by absorbing 90 percent of the energy from high-speed impact. The Extreme Sleeve is water-resistant, soft, flexible, and lightweight. G-Form says that the sleeve's material changes its molecular structure on impact—it is designed to stiffen on impact in order to avoid the shock of, say, a 12-pound bowling ball dropping on your iPad from a height of three feet.
The sleeve is constructed by RPT technology and is made with molded PORON XRD material that provides consistent and repeated impact absorption. Poron cushioning material, developed by the Rogers Corporation, has been used by various manufacturers to make protective athletic gear, shoes, and protective clothing. Although it looks hard like a turtle shell, this G-Form Extreme Sleeve is soft, flexible, lightweight and water-resistant, and made from recyclable materials to boot. The longer you use it, the more pliable it becomes. A durable metal zipper opens and closes the sleeve when you need to pull the iPad out or put it back in. It's neoprene inside.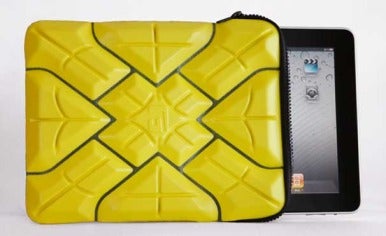 How did I test this product to substantiate its claims? I am as non-extreme as you can get and thus would have little opportunity to take my iPad bungee jumping, skydiving, parachuting, or bowling. The thought of subjecting a precious iPad to gratuitous impact is not appealing. So, I relied on the experts for such tests.
Indeed, the company offers no guarantee that the Extreme Sleeve will protect your precious equipment 100 percent from dangerous stunts, and discourages users from deliberately putting it to the test. At least one tester posted a video showing his pathetically broken iPad after his wife pitched it at an angle to the concrete floor of their deck (at his direction, for the test). That was enough for me.
The G-Form iPad Extreme Sleeve fits the iPad without any protective covering. The sleeve I tested is specially designed for the original iPad, but it fits the iPad 2 as well, and can even accommodate Apple's Smart Cover with the thinner model, though it is a tight fit. The iPad Extreme Sleeve 2, specifically made for the iPad 2 and large enough to accommodate a Smart Cover, is the same price. We did not test that unit.
Macworld's buying advice
For everyday trips to work and school or to your friend's house, the G-Form iPad Extreme Sleeve will offer real protection to your iPad. While some might be put off by the bulk and texture of the sleeve, it's certainly comparable to most other sleeves in terms of weight. Plus, as you use it over time, it becomes considerably less stiff and easier to handle. On the other hand, if you plan to take your iPad skydiving or get your kicks by dropping a bowling ball on it, the sleeve may provide some extra peace of mind, for what it's worth.