During the keynote address at Monday's Worldwide Developers Conference, Apple CEO Steve Jobs unveiled iCloud, Apple's new wireless data sync service for iOS devices, Macs, and PCs.
"Some people think the cloud is just a hard disk in the sky," Jobs told the attendees in his keynote address. "We think it's way more than that. And we call it iCloud."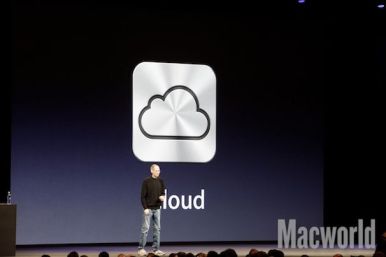 The free iCloud takes the place of Apple's $99-a-year MobileMe service, which Jobs admitted, "wasn't our finest hour." Like MobileMe, iCloud offers the ability to sync contacts, calendars, and mail across devices. Create a new contact on your iPhone, for example, and it gets automatically pushed to the cloud and synced to all of your devices and computers.
The same goes for calendar events, and you can even share calendars directly from your iOS device.
iCloud syncing also works with Safari bookmarks and books in iBooks. And iCloud isn't just for Apple's software, either. Third-party applications can store documents in iCloud and auto-sync them when changes are made on any device.
Auto-backup
Another aspect of iCloud is automatic data backup. Once a day, iCloud will back up a lot of a user's important content to the cloud over Wi-Fi. It doesn't back up everything—only what has changed. If you ever get a new phone or need to restore from a backup, Apple said, type in your Apple ID and password and everything will be loaded on that phone automatically.
It will back up purchased music, apps, and books, your Camera Roll (photos and videos), device settings, app data, home screen and app organization, text and MMS messages, and ringtones.
New apps
Apple has created three new apps for iCloud. (Apple also announced that APIs for iCloud will be released to app developers. It's possible that non-Apple apps will be able to take advantage of iCloud features.)
Documents in the Cloud uploads Pages, Numbers, and Keynote documents to the cloud for syncing. For example, if you create a Keynote presentation on an iPad, Documents in the Cloud stores that presentation. Then, if you have an iPhone that syncs to the same iCloud account and that iPhone has Keynote, that presentation is available for editing on the iPhone.
Photo Stream lets you take photos on any device and uploads them to sync with your other devices (for example, your iPhone shots appear on your iPad). Photo Stream also works with iPhoto on the Mac, and supports the second-generation Apple TV. Because photos are so large, Apple says that photo syncing works over Wi-Fi or ethernet, and Photo Stream has a limit of the last 1000 photos on iOS devices (unlimited on Macs and PCs). Photos remain on iCloud for 30 days after you upload them, but you can save them permanently on a device by moving them to a new or existing album.
The last new app is iTunes in the Cloud. For songs you've already purchased from the iTunes Store, there's a Purchased button that shows your entire purchase history of songs (purchased on any device). You can view by all songs, recent songs, or by artist. You can then download any song or album with the touch of a button.
"This is the first time we've seen this in the music industry," said Jobs. "No charge for multiple downloads on many devices."
You can download music to up to 10 devices, and you can also enable an Automatic Downloads feature that will grab any new purchases you make on other devices.
iTunes Match
What about music that wasn't purchased from the iTunes Store—for example, all those CDs you've ripped yourself? Apple has come up with iTunes Match, a $25-a-year service that scans your iTunes library and tries to match it with the 18 million songs that Apple sells. For the songs that are in the iTunes Store, you get instant access, and Apple will even upgrade them to its standard 256-Kbps AAC format, even if the original was of lower quality. For those songs that Apple can't identify, you can upload them manually.
App Flexibility
The new iCloud lets you view your purchase history on the App Store, allowing you to re-download apps you previously purchased, at no additional charge, to your iPhone, iPad, or iPod touch. It doesn't matter what device you used for the original purchase. When you purchase new apps, iCloud can push them to all your devices automatically. Similarly, with the iBooks app on your iOS device or the iBookstore on your desktop Mac or PC, you can get a list of your past book purchases and download these books again to any of your devices. When you buy a new book, it will appear everywhere. When you start reading on one device, iCloud will save your place. Your iBook bookmarks, highlighted text, or notes are automatically pushed to all your other devices.
Specs and availability
Each user gets 5GB of free storage for mail, documents, and backup. Fortunately, purchased music, apps, books, and Photo Stream photos don't count against that total.
iTunes Match costs $25 a year for up to 25,000 songs.
iCloud will ship at the same time as iOS 5 in the fall, although users of iOS 4.3 can try out a beta of iTunes in the Cloud now by launching the iTunes app and clicking on the Purchased button.
According to an Apple support document, current MobileMe users have had their accounts automatically extended until June 30, 2012, at no charge. After that date, the MobileMe service will be discontinued. MobileMe users will need to sign up for iClould, and will be able to keep their me.com or mac.com email addresses. Once your iCloud account has been established, you can move your MobileMe mail, contacts, calendars, and bookmarks to your Cloud account. If you have an unused activation code for MobileMe, you can request a refund before June 30, 2012.
Updated at 12:47 p.m. PT with information about MobileMe account extensions and transitioning from MobileMe to iCloud.
Updated at 1:28 p.m. P.T. to add more information throughout the article.
Updated at 2:45 p.m. P.T. to add more information throughout the article.