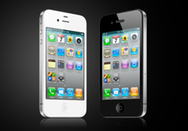 Sometimes, excitement about an imminent Steve Jobs keynote can make people do crazy things. In this case, Walmart has slashed the price of the 16GB iPhone 4 to $147—down from its regular $199 price tag—from now through June 30. Both the AT&T and Verizon editions of the phone are on sale.
But what does it mean? Apple has hinted that Monday's WWDC keynote will not include major new hardware announcements, meaning Walmart likely isn't making the price cut in advance of a brand new iPhone. (Or at least not one that's expected to be announced this week.) A little more than a year ago, Walmart dropped the price of the 16GB iPhone 3GS from $197 to $97. That price cut occurred a couple weeks before WWDC 2010; Monday's price cut was announced only a few hours before the event.
Of course, the 3GS price cut last year was followed by Apple unveiling the iPhone 4. Walmart began selling the iPhone 4 in June 2010.
Walmart's current iPhone 4 promotion includes both the black and white versions of the phone, and the discounted price is available through June 30.
Updated at 12:23 p.m. to correct when Walmart first began selling the iPhone.
iPhone 4 16GB Black (CDMA, Verizon)
Price When Reviewed:
$499
16GB iPhone 4 (GSM, AT&T)
Price When Reviewed:
$485