It's been a few weeks, but we're back with a big roundup of the latest in batteries, speaker systems, and just about everything else you might need to outfit your iPhone, iPad, or iPod touch.
Altec Lansing: If you love carrying around your entire music library on your iPhone or iPod, but feel nostalgic for the giant boom boxes last seen in the 1980s, Altec Lansing's Mix Boombox (iMT810) (iPhone, iPod touch) can provide the party. The system includes a dock cradle for your phone or iPod touch,a digital FM tuner, and two auxiliary jacks to add even more music sources to you mix. A wireless remote lets you control the system from a distance, and installing eight D batteries will let you carry the hulking boom box around for up to 30 hours of iPhone-playback time. The Mix is available now for $300.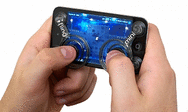 Fling: iOS gamers don't always like relying on fingertips to control their games—that's why the Fling joystick for the iPad made such a splash earlier this year. Now Fling is back, with Fing mini joystick for the iPhone and iPod touch (iPhone, iPod touch). Each $25 package includes two Fling minis, each of which attaches to one side of your phone, placing a tiny "thumb joystick" in a lower corner of the screen—the two locations where many games have onscreen control "pads." The Fling mini is compatible with hundreds of games, the makers say, and is now available for pre-order.

Griffin Technology: Parents who own the iPad often find they have to compete with their children for time on the tablet. Griffin's free new coloring-book app, Crayola ColorStudio HD (iPad), will probably compound that issue, letting budding artists color in animated panels. But if your kid wants to play with more than a few basic templates, you'll have to drop $30 on the company's new iMarker digital stylus, which unlocks all the app's features and provides users with the choice to color, paint, and draw using a pen-like utensil rather than a fingertip.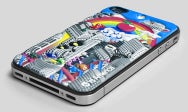 id America: Protecting your iPhone 4 can be done in style, and id American hopes you'll do so using the company's line of Cushi (iPhone 4) soft foam pads, available in three different 3D-style designs. Each pad is applied to the back of your phone, making the Cushi compatible with Apple's iPhone 4 Bumper, but it can also be easily peeled off without the residue mess that adhesives often leave behind. Each Cushi pad costs $12.
Ion: Ion's $200 AnyRoom speaker system (iPhone, iPod) lets you stream music wirelessly from your iPhone or dock-connector-equipped iPod using a dongle that connects to the device's 30-pin dock-connector port (although, curiously, the iPhone 4 is excluded from the list of compatible devices). Ion says the 32-watt sound system offers "better than Bluetooth" sound and a 50-foot range that won't be compromised by cell-phone traffic or Wi-Fi networks. It is available for immediate order.
Logitech: This accessory maker has announced a whole line of accessories for the iPad. The $100 Keyboard Case (iPad 2), based on the ZaggMate iPad Case with Keyboard ( ) is an aluminum case that doubles as a Bluetooth keyboard and stand. If you prefer to keep your keyboard and case separate, the $70 Tablet Keyboard (iPad 1, iPad 2, iPhone, iPod touch) comes in its own carrying case, which you can use to prop up your tablet while typing. The $100 Wireless Speaker (iPad, iPhone, iPod touch) plays music from your iOS device via Bluetooth from up to 50 feet away, and can run for up to 10 hours on battery power. All three accessories are available to order now.
Placewiz: Sometimes simplicity rules. That's the idea behind the $14 Wiz Stand Rabbit Edition (iPad), a two-piece stand that can display your tablet for hands-free reading or video viewing at any of three different angles. Non-skid materials on both the base and the stand ensure that you don't accidentally crack your iPad open. The stand comes with a travel pouch and is pitched as being perfect for use on airplane trays.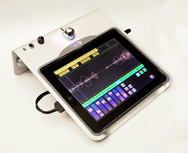 Reed Ghazala: You can't buy every accessory available for the iPad—sometimes you have to put in a little bit of elbow grease. Reed Ghazala, known as the "father of circuit bending," has created the iPad Audio Desk (iPad), a rig that uses the tablet as the foundation of a system that creates "experimental" music. But he's not selling the device. Instead, Ghazala has posted schematics and a video to guide at-home experimenters in creating their own versions. Ghazala says the device provides an elegant, easy-to-use solution the problem of using "dongles, mini-jacks, and flimsy wire" to connect hardware to the iPad while making music.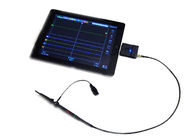 Saelig Company: The iPad and iPhone sometimes remind us of the cool devices the crew of the U.S.S. Enterprise used to carry around on Star Trek, and Saelig Company helps further that notion with a new system that turns your iOS device into an oscilloscope. The new iMSO-104 (iPhone, iPad) is pitched at "field service, sales and application engineers, as well as students and hobbyists" who can use their iOS devices to check the voltage on sensitive lab equipment. The $298 probe plugs into your device's 30-pin dock-connector port and works with a free iMSO app that displays readings on your iOS screen.
Spot Connect: Believe it or not, there are occasional rumors that the iPhone doesn't always work very well as a phone—and that's when you're in the city, near cell-phone towers! What happens when you're deep in the boonies, far away from civilization, and you need to communicate? The $170 Spot Connect (iPhone, iPod touch) connects via Bluetooth and works with the free Spot Connect app to let you send messages and GPS coordinates via global satellite network. But you'll need more than the hardware and software—the system also requires a $100-a-year subscription.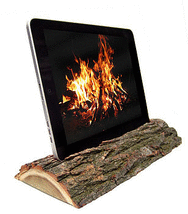 Twisted Twee: Although it's been on the market for more than a year, the iPad still seems very futuristic. If you want your tablet to seem a bit more rustic, UK company Twisted Twee has created the I-Log for iPad, a stand, made out of a hunk of London wood, designed to display your device in either portrait or landscape orientation. The I-Log sells for £35, and international delivery to the United States is available.
USB Fever: If you want to connect your iPad to nearly anything without having to lug around myriad cables and adapters, USB Fever's $80 HDMI and RCA Connection for iPad (iPad) may fit the bill. As its name implies, this accessory lets you connect your iPad to HD and standard-definition televisions. But it also sports a mini-USB jack for syncing and charging, as well as a standard USB port for connecting a low-power external keyboard, a digital camera for downloading photos, or the included card reader for downloading images from an SD or Micro SD card. In addition to the card reader, USB Fever includes an RCA-video cable and a mini-USB-to-USB cable.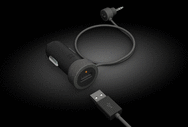 XtremeMac: This accessory vendor has announced a pair of new products that allow you to charge your iOS device and play music at the same time. The InCharge Auto BT (iPhone, iPad, iPod touch) is for use in the car, providing 10 Watts of charging power to your iPhone or iPad along with a Bluetooth connection for playing audio over your vehicle's sound system. The InCharge Home BT (iPhone, iPad, iPod touch) serves a similar purpose at home, plugging into a wall outlet and providing wireless audio to your stereo or speaker system. Each device will cost $80 and will be available "soon."