When Apple introduced Keynote for the iPad last year, it did a terrific job translating the desktop application's functions to the tablet's multi-touch interface. But the iPad imposed limitations that made the iOS version less-than-ideal for creating or editing presentations on the go.
Subsequent updates remedied some of Keynote's shortcomings, adding support for presenter notes, object grouping, AirPrint, and improved PDF export. The recent 1.4 update brings Keynote to the iPhone for the first time and adds a couple of new features, but the mobile app still suffers from restrictions imposed by the hardware.
Although the iPhone and iPad apps are identical internally—Apple distributes Keynote as a universal binary that runs on any compatible iOS device—the user interface changes to accommodate the iPhone's much smaller screen. Unlike Keynote on the iPad, the iPhone version doesn't have a toolbar icon to animate objects. Instead, you tap on the Tools icon and select Animation Mode from the list of options. Many other interface elements are arranged differently on the iPhone, so I had to hunt around a bit to find corresponding functions.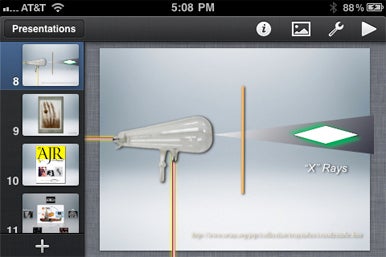 The iPhone's screen hampers Keynote in other ways, too. On the iPad, the slide navigator has room for eight complete slide thumbnails, compared to barely four on the iPhone, and the iPhone's thumbnails are smaller. Because there's no slide sorter, it's hard to obtain an overview of a presentation, an essential perspective when you're shuffling slides around. I'd like to see Apple add a full-screen sorter view with slightly larger thumbnails that you could drag-and-drop. The tiny screen also makes it more challenging to move, resize, or rotate objects on a slide. As on the iPad, you can expand the slide canvas by pinching it open with two fingers, but it's still difficult to manipulate objects as precisely as you can on a larger display.
Like earlier iOS versions, Keynote 1.4 doesn't support all of the desktop app's features. Sometimes, you can work around the limitations without much effort: for example, it's usually not too difficult to find an acceptable iOS equivalent for a missing desktop font or slide transition. But many effects, such as Smart Builds, audio tracks, object hyperlinks, and some animations, are completely absent from Keynote 1.4. The lack of Move actions, which let you choreograph complex movements of slide objects in the desktop version, is particularly frustrating. You can sometimes achieve similar results with Magic Move transitions, which are supported in Keynote for iOS, but in many cases, there's simply no suitable alternative.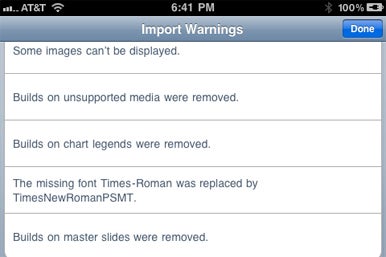 If you import a presentation containing an unsupported effect or typeface, Keynote does its best to replace it with the nearest equivalent and displays a list of warnings. But, depending on the effect, the substitution may be barely acceptable or even ruin a masterwork. If you transfer the edited slideshow back to your Mac later, the substitutions remain intact. That's a serious problem if you use your iPhone to tweak presentations that you create on your Mac. As a workaround, you can export just the slides that you want to edit (once you've verified that they don't include any unsupported effects), but that's not practical.
Importing media into presentations is far less seamless than it should be as well, a consequence of the lack of an accessible file repository on the iPhone. Keynote only lets you grab images and movies from the iPhone's photo albums. Adding audio clips to slides is even more awkward. To insert sound on a slide, you have to first import a presentation that contains the audio file, then cut-and-paste it onto the slide. These limitations are especially surprising, since you can already copy entire slideshows from iTunes, iDisk, or a WebDAV server. Keynote ought to let you do the same with images, movies, and sound files.
I put Keynote through its paces on a two-year-old iPhone 3GS, which sports a slower processor and less memory than the iPhone 4. Despite the older hardware, Keynote's performance was usually adequate. The app occasionally struggled to keep up while editing complex slides with many builds, but it generally fared better than I expected.
In addition to iPhone compatibility, Keynote 1.4 brings two new features to iOS. Keynote now lets you organize presentations in folders by dragging them on top of each other, just like you can drag-and-drop apps on the iPhone or iPad. It also adds support for Apple's Keynote Remote app (available separately in the App Store for $1), which lets you control a slideshow on one iOS device from another one over a Wi-Fi or Bluetooth connection.
If you have an Apple Digital AV or VGA adapter, you can view Keynote presentations on compatible projectors, displays, or HDTVs. Unlike the original version, which only displayed small thumbnails and a slide counter, Keynote 1.4 includes an enhanced Presenter Display with an adjustable layout that lets you show the current and upcoming slides or the current frame and presenter notes. External display isn't supported on the iPhone 3GS or third-generation iPod touch, however.
Apple touts Keynote for iOS as a way to view and edit Keynote '09 presentations, but the app remains a work-in-progress as it struggles to keep up with its more capable desktop sibling. That's not unreasonable given current hardware constraints. As long as your presentations are relatively simple and don't rely on features that aren't supported on the iPad, Keynote mostly lives up to Apple's promise. And, if future enhancements to the iPad let Keynote support even more of the desktop version's feature set, and Apple provides better options for importing media, Keynote will become an excellent presentation tool for iPad users. On smaller iOS devices, the small screen will remain a substantial hindrance until fold-out displays debut. For the time being, Keynote is worth having on your iPhone or iPod touch when you don't have a better alternative.
[Franklin N. Tessler is a Birmingham-based university radiologist who frequently writes and lectures about presentations.]