Apple released an update to its iBooks iOS app today. Version 1.3 of iBooks adds a couple of new features, including a read-aloud feature for some children's books that isn't working yet.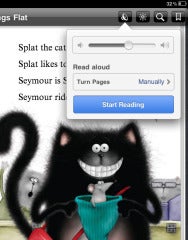 The read-aloud function is currently limited to a handful of children's books. When you open a compatible book, a new speaker icon appears in the top navigation menu. Tap the speaker to bring up a volume slider, choose whether you want the book to turn pages automatically or manually, and hit the Start Reading button. A few titles will even highlight the words as they are read aloud.
While we were able to install the iBooks update and download a read-aloud title (Splat the Cat Sings Flat), we were unable to get the feature to work on an iPad or iPhone 4 running the latest iOS. The speaker icon appeared in iBooks, the book pages turned when we hit Start Reading, but there was no audio.
It appears that Apple is aware of the glitch, as the link to a list of compatible books called "Read and Listen" was removed from the iOS version of the iBookstore after we downloaded two books, though it was still up in the iTunes book store. (The only book listed there was Biscuit Goes to School, which also does not work.) And Splat the Cat Goes Splat appears to have been removed from the iBookstore.
Other updates in the iBooks 1.3 update include the ability for books containing multimedia content to automatically play audio or video, faster opening times for very large books, and a bug fix that addresses an issue where a book would display a page twice.