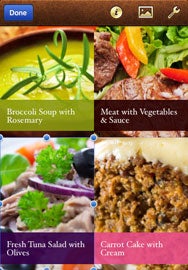 Creating attractive documents on your Apple mobile device just got easier. Only days after Apple announced iWork for iPhone, Lithuania-based company Jumsoft has released its Inspiration Set for iOS app. The app includes 55 iPhone compatible templates for Pages.
This is the first template set available for Pages on the iPhone. A modified version of its Inspiration Set for iPad, Jumsoft's Inspiration Set for iOS features templates ranging from award certificates to brochures to recipe cards. While there are a total of 55 templates, some include up to four iterations, giving the package close to 90 different layouts. Templates can be installed directly onto an iPhone, so syncing with a computer is not required.
The templates, which come in both A4 and US letter sizes, also allow for quick customization. Users can type, copy and paste their own text, change fonts, recolor and move most of the template elements, and swap out stock photos for personal photos. The app is available in the App Store now for $2.