China will be a key market as Finland-based Rovio continues to build on the phenomenal success of Angry Birds, while starting work on new games and a cookbook, Rovio's Peter Vesterbacka said in speech at the Open Mobile Summit conference in London on Wednesday.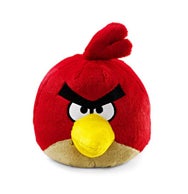 The success of Angry Birds seems to only continue. The game reached 200 million downloads two weeks ago, and now it is way over that number. That amounts to about 130 million unique users, and 200 million minutes of playing time every day, according to Vesterbacka, who said he didn't mind if people in the audience kept playing while he was talking.
An important part of the company's strategy has been to make the game available on as many platforms as possible, which Vesterbacka calls its "Tetris strategy." It recently added a Web-based version, which it expects will get a couple of hundred million users, because "the Web is the biggest platform out there", Vesterbacka said.
Versions for Windows Phone and Samsung's Bada are also on the way.
The company is also working on new games that will use the same characters, but in a different way. This is similar to what Nintendo has done with Mario, according to Vesterbacka.
Like many companies, Rovio has high hopes for the Chinese market. Today it has about 20 million downloads, and the ambition for this year is to get to 100 million downloads, which it will achieve by building custom versions of its games for China.
A sign of its growing popularity is that Rovio is one of the top three most copied brands in China, according to Vesterbacka. If you go into a store in one of the big cities in China you see copies of Disney characters, Hello Kitty, and Angry Birds, he said.
Rovio would prefer if everyone in China bought official merchandise, but, on the other hand, if nobody copied its products it would mean that nobody cared. So the company is happy to be among the three most copied brands, Vesterbacka said. "Next year our ambition is to become the most copied brand,because that would mean it is the biggest entertainment brand," Vesterbacka said jokingly.
The combination of addictive games and the growing popularity of smartphones has helped expand the market for gaming, which is good for both Rovio and the industry as a whole. Many of Rovio's users have never played a console game, and probably never will, according to Vesterbacka.
The advent of app stores and the democratization of mobile development has also been key for what in the beginning was a company with only a handful of employees. In the pre-app store days it was very difficult to make your mark as a small developer, because you either had to convince a phone maker to take your app on their phones or convince an operator to help with distribution, according to Vesterbacka.
But Rovio doesn't view itself as just a games company. It has moved on to its "Mickey Mouse" strategy, which includes selling millions of T-shirts and toys, and last week it also bought an animation studio, which it will use to get serious about animation. The company has started with shorts and "who knows, one day we'll make a movie," Vesterbacka said.
The next step in its strategy to branch out will be its first book, which will be a cook book, Vesterbacka said without offering any other details than that it will be available on paper and as an e-book.
Rovio is the first games company to build a global brand starting in the mobile market and then expanding into other areas, Vesterbacka said. Previously, game companies started with characters from comics, books and movies. Going forward you can expect a lot new brands making the same journey as Angry Birds has, according to Vesterbacka.