Sony unveiled two new cameras on Tuesday: the incredibly small and powerful NEX-C3 interchangeable-lens camera, and the translucent-mirror SLT-A35 DSLR.
NEX-C3: Small, with creative effects and a large sensor
The NEX-C3 ($600-$650) is a compact interchangeable-lens camera (CILC), that replaces the NEX-3 in Sony's camera line-up. (The NEX-5 will still be available). Like its predecessor, the camera records full HD movies, shoots 5.5fps in continuous shooting mode, and has a maximum ISO of 12800. It still has Sony's great Hand-held Twilight, Sweep Panorama, and Auto HDR modes. However, some key improvements have been made to the NEX-C3. Its body is slightly redesigned and physically smaller, weighing in at an incredibly light eight ounces.
The camera's sensor has received an upgrade from the NEX-3—it's still packing a DSLR-sized APS-C sensor, but the megapixel count has been increased to 16.2 megapixels. The NEX-C3 has new creative modes that translate technical manual settings into easy-to understand settings named after their results. For example, Background Defocus changes the depth of field, and Brightness is just exposure compensation. A handful of new in-camera filter effects have also been added, including Toy Camera, Partial Color, Retro Photo, and High Contrast. For a little on-the-spot retouching, the Soft Skin Effect edits out a subject's wrinkles and blemishes.
The battery life has also been greatly improved. The NEX-C3 lasts a full 20 percent longer than the NEX-3 and NEX-5, rating 400 still shots per charge.
The NEX-C3 works with Sony E-mount lenses, and will be available in August in one of two lens kits. The silver, pink, and black bodies will cost $650 bundled with a 18-55mm lens. The black body can also be purchased with a 16mm lens for $600.
SLT-A35: The latest translucent-mirror DSLR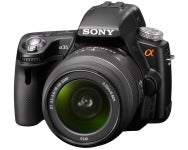 Following on the heels of the groundbreaking A33 and A55, the SLT-A35 ($600 body only) features the same benefits of Sony's other translucent, fixed-mirror cameras. The lack of a moving mirror means faster continuous shooting and auto-focus in Live View and Movie modes.
The A35 replaces the A33, and has a few key upgrades. The sensor is a new 16 megapixel APS-C CMOS sensor. Sony has added a new in-camera effects mode with 11 filters that can be applied to still images or videos while shooting. The A35's battery life is boosted to 440 still shots per charge, which is 30 percent more juice than the A33.
The A35 goes on sale in August, and will be sold as a kit with an 18-55mm lens for $700, or body-only for $600.
Firmware updates and accessories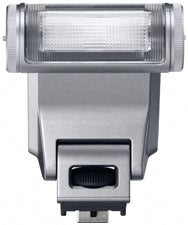 The excitement isn't limited to people who can afford new cameras. Owners of older some Alpha camera models will be able to upgrade their firmware on June 20th. A33, A55, NEX-3, and NEX-5 firmware updates will gain the Picture Effects function, along with some smaller improvements.
Sony also announced a handful of new accessories, including a 30mm E-mount macro lens, a lightweight HVL-F20S flash for E-mount cameras, and some new cases and memory cards.