Editor's note: The following review is part of Macworld's GemFest 2011 series. Every day from mid June through July, the Macworld staff will use the Mac Gems blog to briefly cover a favorite free or low-cost program. Visit the Mac Gems homepage for a list of past Mac Gems.
Although the built-in speakers on Macs have improved over the years, volume (or lack thereof) continues to be an issue. Watching a movie on your MacBook Pro might be less enjoyable that it could if you're straining to hear what the characters are saying, for example.
Global Delight Technologies' Boom 1.1 attempts to solve the volume problem by boosting the Mac's output volume systemwide.
Boom works in two ways. The first is to boost the volume of, and/or apply EQ settings to, whatever you hear on your Mac. That can be music or video in iTunes or another player application, YouTube videos, iChat/FaceTime/Skype chats, or anything else.
When you install Boom, it adds a menu-bar item that includes a volume slider similar to the one in Apple's own volume item. When Boom is activated, the knob on the slider displays a blue dot in the middle (it's gray otherwise) and the menu-bar item itself gives you an indication of the volume level (again, similar to Apple's item). At the bottom of the slider is a button—click it and the full Boom interface appears.
The interface defaults to the Customize window, which offers two sections. At the top you'll find a Boom Volume switch to turn volume boosting on or off, and a horizontal volume slider. Underneath that is an EQ section, with a Equalizer on/off switch; a pop-up menu with built-in presets for Flat, Bass Boost, Treble Boost, Soft, Loud, Music, Vocals, and Movie, as well as any custom presets you've created; and a 10-band equalizer. You can turn the volume and EQ functions on and off individually, so even if you don't need extra volume, you can take advantage of systemwide EQ adjustments, for example.
I tried Boom with an iChat video chat, because the speakers on my MacBook Pro often aren't loud enough to hear people on the other end if there's any other noise happening. I was surprised to find that Boom didn't work at all with iChat's volume in my test. Then I found out that I had to change the sound output setting in the Audio/Video section of iChat's preferences to BoomDevice. After I did that, the volume boost feature worked as expected.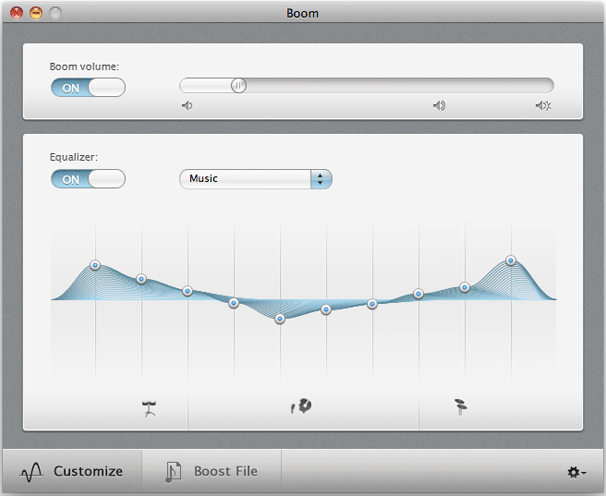 The other method for using Boom is altering files on your Mac, so they retain their extra-volume goodness when you copy them to your iPhone, say. To do so, you open Boom and click on Boost File at the bottom of the window. From there, you can drag and drop music or video files into the main window, or click on the the plus (+) sign to choose either items from your iTunes library or general files on your hard drive.
The first option brings up the Boom iTunes Browser, where you can find items in your various iTunes libraries or playlists, as well as search for specific files. You can command-click to select multiple files.
Note that Boom can't alter the volume in this way for protected iTunes content (TV shows, movies, and older, DRM-saddled music). Oddly, it won't even show any Protected AAC audio files in the browser, but it will show protected videos as grayed-out files.
Add some files to the list and you then drag a horizontal slider to set the new volume level (in a nice touch, the volume level is reflected in the file list as a blue-tinted background that gets smaller as you drag the slider to the right). Best of all, you can preview a portion of individual tracks to hear how they sound with the volume adjustment applied by clicking the play icon that appears to the right of each track as you mouse over it, and it's a live preview so you can drag the slider while it plays to get just the right level.
An Add Files To iTunes Playlist "Boom" option makes it easy to find the files once they've been processed, and by default Boom adds the suffix '_boosted' to each file (you can change the suffix to something else in the application's preferences). When you're ready to process, just click the Boost button.
I tried the Boost File feature with an audience-recorded version of a David Gilmour concert I saw in 2006, which suffered from somewhat low levels and distant sound. Although Boom did a pretty nice job of making the songs louder and easier to hear, it also stripped all the metadata I'd added to the concert. And the software wasn't consistent with whether or not it added a suffix to tracks (I removed it from the prefs then added it back but Boom didn't seem to notice).
In general, I found the EQ settings more useful on a regular basis than the volume improvements. But if you're in a crowded or noisy environment and need to hear what's coming out of your Mac, Boom might be quite helpful.
Want to stay up-to-date with the latest Gems? Sign up for the Mac Gems newsletter for a weekly e-mail summary of Gems reviews sent directly to your inbox. You can also follow MacGems on Twitter.