It's pretty much a given that with each major update to Mac OS X or iOS, Apple will add to the OS features previously provided by third-party developers. These are often features that were in such demand that others had stepped in to provide them, but, eventually, Apple saw their utility and decided they were things that should be a part of the OS (or its built-in apps). Whatever the case may be, each year, select developers come away from an Apple keynote or press release rethinking their future business plans.
With iOS 5, potential "victims" of these new features include one of the most popular reading services, a couple entire genres of apps, and a standout utility.
Popular apps affected
For starters, iOS 5's new Reading List and Reader features offer some of the key functionality of the excellent Instapaper Web service and Instapaper iOS apps, as well as features of the Readability Web service and the Read it later Web service and iOS offering. When iOS 5 arrives, when you come across an interesting article in Safari, you'll be able to tap a button to have that article instantly reformatted for easier reading and stripped of ads and other clutter. And if you don't have time to read an article right there and then, Reading List will let you save the article for later viewing—your list of saved articles is automatically synced, using iCloud, between Safari on all your iOS devices and ( under Lion) with Safari on your Macs.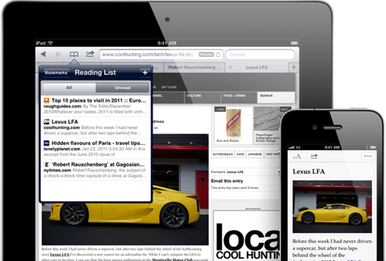 Developers of to-do-list and reminder apps also found themselves in iOS 5's crosshairs on Monday, as iOS 5's new Reminders feature (finally) lets you create and manage to-do lists on your iOS devices, and even sync those lists with iCal or Outlook on your computer. (We've been asking for to-do syncing for years, and have reviewed many third-party options, including Todo.)
In addition, Reminders lets you set alerts for tasks and receive those alerts on any iCloud-synced computer or iOS device—thus obviating many simple reminder programs, and even impacting more-capable reminder apps such as Notificant. The Reminders feature will even offer the capability to set reminders based on location. For example, you could set a reminder to pick up milk after work, and configure that reminder to automatically alert you when you leave your office. The developers of location-based reminder apps are surely less excited about iOS 5 than we are.
Even developers of more specialized but enormously useful software will be affected. For example, TextExpander for iOS works with more than 100 other iOS apps to let you create textual shortcuts—you type a brief abbreviation, and that abbreviation is automatically replaced with a corresponding longer bit of text. But iOS 5 adds a systemwide Shortcuts feature that, while much more limited, offers similar functionality and works across all apps.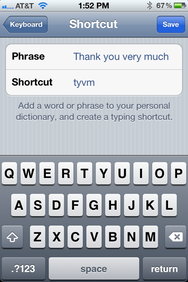 Developers aim higher
Of course, having great features built in to the OS is a good thing for users. As Aayush Arya, a Macworld contributor but also one of the people behind Notificant developer Caramel Cloud, pointed out, "Apple doesn't really have a choice in some of these matters. When they stumble upon great ideas, either of their own accord or from looking at certain third-party apps, and think they can implement it well as part of the OS, they'd be impeding the progress of the platform by choosing to not add those features."
But that doesn't change the fact that the developers of affected apps are left to answer two questions: "How much of my app does the new OS render obsolete?" and "How will the new OS affect my livelihood?" The good news for some developers is that when it comes to adding new features to iOS, Apple often provides only the most-basic functionality—it's not in the company's blood to include every option anyone might want. This philosophy—avoiding complexity in favor of ease of use—means that while the creators of simple solutions might want to start thinking about their next app, developers providing comprehensive solutions or advanced features will likely weather the new OS well. Indeed, when I contacted the developers of several of the high-profile apps mentioned above, there was consensus that iOS 5's new features shouldn't harm their businesses significantly.
For example, iOS 5's Reminders features lets you maintain simple lists with due dates and reminders, but third-party task-management apps offer projects, shared/group lists, attachments, tags and categories, repeating reminders, additional syncing options, and much more. As Boyd Timothy of Appigo, makers of Todo for iOS and Mac, told me, "Apple's new Reminders app will likely appeal to a group of basic users…There's a large gap between simplistic reminder apps and extremely complicated project management-style apps. We feel Todo fills that gap."
Similarly, while the Reminders feature might seem to make apps such as Notificant obsolete, Notificant lets you choose exactly which devices receive which reminders, and the company plans to add repeating reminders and timed reminders. Arya said that the announcement of Reminders hasn't changed Caramel Cloud's future plans for Notificant.
iOS additions increase app interest?
In fact, while developers of some basic software—I'm looking at you, dozens of overly-simple-to-do-list apps—will likely see demand for their products plummet, Apple adding a simple version of a feature can actually increase interest in, and sales of, third-party offerings that provide significantly more functionality.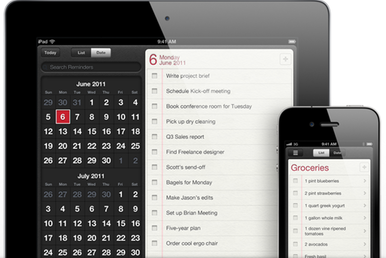 As Marco Arment, the developer of Instapaper, explained earlier this week, his biggest challenge is not from Apple or from direct competitors on the App Store. Rather, it's in educating people on the appeal of his product: "If [Reading List] gets a bunch of Safari users…to get into a 'read later' workflow and see the value in such features, those users are prime potential Instapaper customers. And it gives me an easier way to explain it to them: 'It's like Safari's Reading List, but better, in these ways.'" He pointed out that, despite Instapaper regularly being the top-selling paid app in the App Store's News category, not even 1 percent of iOS-device owners are Instapaper users. Arment is optimistic that Apple's entry into this field will either "have no noticeable effect on Instapaper, or it will improve sales dramatically."
The folks at Smile Software, makers of TextExpander, take a similar view. As Jean MacDonald, a partner at Smile, told me, the company expects typing shortcuts in iOS to have an effect similar to the one that resulted when Apple added Symbol And Text Substitution to Mac OS X a few years back: "Users will want to go beyond the basics and they'll turn to TextExpander touch and the apps that have integrated the TextExpander SDK. It's not, as some would have it, a death knell for our app, or for the other apps that have functionality that Apple will be adding to iOS 5."
Wunderkinder, developers of the popular to-do-list app and service Wunderlist, agreed in a blog post in response to the WWDC keynote: "Apple introduced a new task managing app 'Reminders' for the single individual who wants to organize their daily tasks. We see 'Reminders' as something that attracts more individuals to the world of productivity and we are pleased to know people will have more options to become productive in their daily life." The company then went on to point out a number of features Wunderlist provides that you won't find in Reminders.
Risk comes with the territory
Does the risk of Apple moving into third-party markets with each iOS update scare away some developers? Perhaps. But as Justin Williams of Second Gear, maker of the cloud-syncing iOS text editor Elements, recently wrote, this risk "comes with being a part of the platform. The key is to ensure your product lineup is diverse enough that you can survive taking the blow Apple may offer at the next keynote." Williams was obviously a bit nervous when Apple demonstrated the document-syncing features of iCloud. But after getting a better idea of what iCloud will and won't do, he says his work on Elements is "full speed ahead."
Or to look at it another way, as Caramel Cloud's Arya told me, developers choose to develop for iOS for many reasons, and those don't change just because Apple has added features customers have demanded. "iOS developers, by now, are well aware of the risks associated with developing for this platform, but as long as it continues being as exciting and successful as it is, I think their participation in it will only increase, despite the uncertainties involved."
Perhaps, then, the real decision is which features developers should provide in order to attract the most users without getting " Sherlocked." At least a few developers have a sense of humor about the topic: Earlier this week, as I was talking with developers at WWDC, the only-half-serious consensus was that if you want to develop a really successful iOS app, you should provide a feature that many users complain is missing from the iPhone or iPad—just make sure it's not a missing feature that everyone complains about.