At a Glance
Expert's Rating
Our Verdict
Editor's note: The following review is part of Macworld's GemFest 2011 series. Every day from mid June through July, the Macworld staff will use the Mac Gems blog to briefly cover a favorite free or low-cost program. Visit the Mac Gems homepage for a list of past Mac Gems.
Wraparound is a small software utility that allows your Mac's cursor to wraparound the edges of your display. For example, if your cursor reaches the right edge of your display and you keep going, it will reappear on the left side. This isn't limited to horizontal movement, as Wraparound can be configured to do the same in the vertical. You can even drag windows across these borders, and Wraparound works with multiple display setups as well.
At first, this effect can be unsettling and even disorienting (I discovered that I often get my bearings using the screen edges). However, Wraparound can be very useful, particularly with multiple screen arrangements that span a good distance. Wraparounds options can also ease the transition.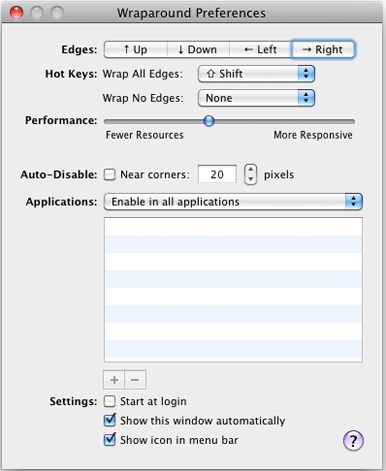 By default, the software wraps horizontal direction all the time. You can change the preferences to allow all directions, wrap all edges only while a modifier key is held, or prevent all wrapping while another key is held. Furthermore, Wraparound can be configured to work based upon which application you're in. This is especially useful for video games such as first person shooters, when you use your mouse to change direction, often in a single direction for longer periods.
Another useful option is to disable wrapping based on your cursor's proximity of a screen corner. This allows for continued use of corner hotspots (for disabling the screen saver or starting it immediately). Wraparound can also be fine-tuned to be more or less responsive. For example, you can set Wraparound to give you a buffer of up to a second before it brings your cursor to the opposite side.
For some, Wraparound could be extremely confusing, but Wraparound will be a godsend if you wish for a quicker way to traverse your display.
Want to stay up-to-date with the latest Gems? Sign up for the Mac Gems newsletter for a weekly e-mail summary of Gems reviews sent directly to your inbox. You can also follow MacGems on Twitter.