At a Glance
Expert's Rating
Our Verdict
Editor's note: The following review is part of Macworld's GemFest 2011 series. Every day from mid June through July, the Macworld staff will use the Mac Gems blog to briefly cover a favorite free or low-cost program. Visit the Mac Gems homepage for a list of past Mac Gems.
Video conversion can be tricky for those who don't know (or care) about bit rates, frame sizes, and so on. Reggie Ashworth's VidConvert 1.0.5 makes the process easy with some simple settings, but also offers fine-tuned control for those who want to tweak to their hearts' content.
Like many other free or low-cost video conversion apps available, VidConvert uses the open-source FFmpeg libraries. To ensure you have the latest version, you're prompted to download and associate with the app the first time you launch VidConvert.
After that, you add files to VidConvert and can focus on just the three pop-up menus at the bottom of the window. The first pop-up deals with presets. There are three sections: iTunes, Others, and Audio Only. For iTunes, you can choose between All Apple Devices, iPhone/iPod touch, iPhone/iPod Retina, iPod nano, iPod classic, iPad, and Apple TV. Others includes QuickTime, MPEG-1, MPEG-2, MPEG-4, DivX, Xvid, DVD-NTSC, DVD-PAL, Windows Media, and Flash Video. And Audio Only offers AAC, MP3, AIFF, WAV, and WMA—useful for pulling the audio track out of a convert video, say.
The next pop-up, which really works in conjunction with the preset, is the quality. For each, you can choose between Normal or High, or select Advanced and be presented with a window where you can pick the video codec, frame rate, bit rate, and crop settings; if you want two-pass encoding; if you want to deinterlace the video; and audio codec, sample rate, bit rate, and number of channels. But for most people, choosing Normal or High will suffice. (The final pop-up lets you choose where to save your converted files: either to the same folder as the source, or to a folder of your choosing).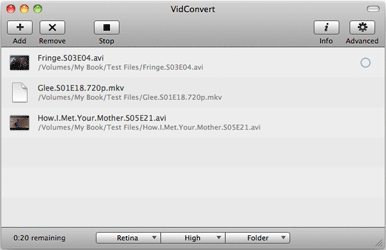 Although VidConvert offers lots of presets, what's not necessarily clear is exactly what they'll do to your file. For example, I converted a 720p 24 fps MKV file using the Apple TV preset and the Normal quality setting, expecting it would be just fine for watching on my Apple TV. The original file was 1280 by 720 pixels, but the resulting file was only 720 by 406 pixels. Choosing the High preset instead kept the file at its native resolution (which both the original and second-generation Apple TV models support). As it turns out, VidConvert's Help file includes extensive information about what to expect from each preset/quality combo—the Apple TV listing reads: "Will produce a .m4v file that will play on an Apple TV. Normal quality uses MPEG-4 video codec with AAC audio codec and fits a resolution of 720 x 432. High quality will use the H.264 video codec and fits a resolution of 1280 x 720 (720p)." It would be nice if the program offered tooltip descriptions for each preset as well, rather than making you launch Help each time.
VidConvert's preferences also let you choose whether you want to send the finished files to iTunes, as well as if you want the software to remember your last conversion settings.
After you've chosen your setting, you click the Convert button and VidConvert snaps to action. It gives you an estimate of how long the conversion will take that counts down (a progress circle also shows how far along your encode is). For the MKV file mentioned above, it estimated 26 minutes to encode. At then end it sat at "0:00 remaining" for a little while, and then "Calculating" for a few more minutes, but finished in 26 minutes and 17 seconds—pretty accurate, I'd say. With the Audio Only settings, however, it just shows "Converting audio" instead of a providing a time estimate (but, as you'd expect, it takes much less time than converting the video).
Although there are free apps to convert video for iOS devices and more, VidConvert's simple interface, rich codec support, advanced settings, and audio-only conversion option make it well worth the modest fee.
Want to stay up-to-date with the latest Gems? Sign up for the Mac Gems newsletter for a weekly e-mail summary of Gems reviews sent directly to your inbox. You can also follow MacGems on Twitter.
Note: When you purchase something after clicking links in our articles, we may earn a small commission. Read our affiliate link policy for more details.