Editor's note: The following review is part of Macworld's GemFest 2011 series. Every day from mid June through July, the Macworld staff will use the Mac Gems blog to briefly cover a favorite free or low-cost program. Visit the Mac Gems homepage for a list of past Mac Gems.
Checking the weather forecast is something most people do everyday, especially on their computers. Yet weather applications can be boring and mundane. However, Swackett is an interesting and somewhat offbeat weather application available for free on the Mac App Store.
Swackett, a portmanteau of the words "sweater," "jacket," and "coat" (as in, might I need a sweater, jacket or coat?) features everything you'd expect in a weather application: current conditions and both hour-by-hour and extended seven day forecasts. It also includes city, state, regional and national satellite imagery.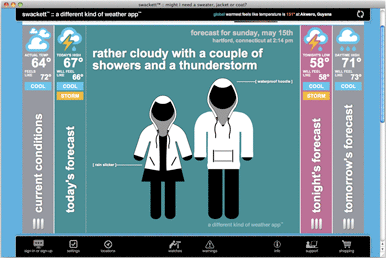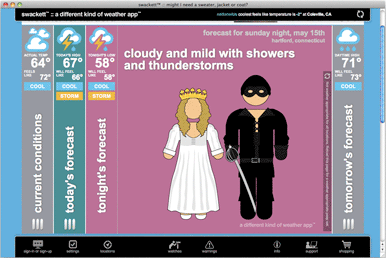 What makes Swackett different is its distinct visual style. At the heart of its interface are what Swackett's developers call "peeps," figures clad in weather-appropriate attire. Raining outside? Expect to see peeps clad in raincoats and boots. Sunny? Peeps may wear t-shirts, jeans, and trendy shades. Swackett's peeps offer a quick, at-a-glance view of the day's weather forecast. It's fun to check in and see what they are wearing each day.
While the standard peeps are quirky enough, they aren't the only peeps you'll find in Swackett. Occasionally you'll also find special characters, such as the Beatles, Captain Kirk, Spock, and Bones from Star Trek, and a group that looked suspiciously like the Village People. You can also reload the program if you prefer to see the regular peeps—but where would be the fun in that?
Sure, you can get your weather forecast from other applications and Websites, but few have as much fun with the weather forecast as Swackett. The developers say they are working on a companion iPhone version, but it is still in development as of this writing. But Mac users looking for a cheerful way to check the daily forecasts should try Swackett.
Want to stay up-to-date with the latest Gems? Sign up for the Mac Gems newsletter for a weekly e-mail summary of Gems reviews sent directly to your inbox. You can also follow MacGems on Twitter.