At a Glance
Expert's Rating
Our Verdict
Editor's note: The following review is part of Macworld's GemFest 2011 series. Every day from mid June through July, the Macworld staff will use the Mac Gems blog to briefly cover a favorite free or low-cost program. Visit the Mac Gems homepage for a list of past Mac Gems.
Déjà Vu is a simple, easy-to-configure System Preference pane that helps you backup up your data to any directly attached or network attached drive, including optical media such.
Déjà Vu works in a fashion similar to Time Machine, Apple's built-in backup software, but it offers many more configuration options, allowing you to select the volumes or folders you want to backup, choose whether you want those folder backed up daily, weekly, monthly, or manually, and lets you set the time when you want each of these backups to take place.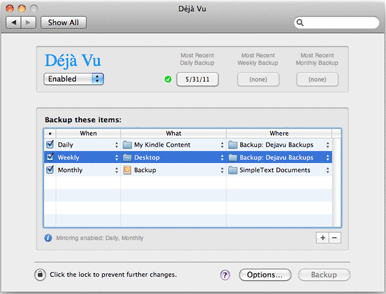 You create new backups by opening System Preferences and selecting Déjà Vu. When you do this Déjà Vu displays information on all your recent backups, letting you know whether or not they have completed successfully. You'll also see a list of all your backup sets. This list is broken into four columns, the first of which contains a checkbox letting you know whether or not the backup set is enabled and the other three of which display when the backup will take place, what's being backed up, and where it will be backup to. If a backup volume is unavailable Déjà Vu's "Where" column displays a small warning icon to let you the disk is not available.
Beyond basic backups Déjà Vu also offers options for repairing volume permissions before a backup starts, can clone complete startup volumes and create versioned backups, and perform one-way synchronization of folders. The application's only real weakness is that it cannot backup data if a user is not logged in.
Want to stay up-to-date with the latest Gems? Sign up for the Mac Gems newsletter for a weekly e-mail summary of Gems reviews sent directly to your inbox. You can also follow MacGems on Twitter.
[Jeffery Battersby is a regular contributor to Macworld. Get more Jeff than you want on the Revenge of the Fanboy! podcast ( revengeofthefanboy.com) and at jeffbattersby.com.]