At a Glance
Expert's Rating
Our Verdict
Editor's note: The following review is part of Macworld's GemFest 2011 series. Every day from mid June through July, the Macworld staff will use the Mac Gems blog to briefly cover a favorite free or low-cost program. Visit the Mac Gems homepage for a list of past Mac Gems.
Despite being a video sharing Website, YouTube also boasts an impressive amount of rare, live and unreleased music in almost every conceivable genre. Yet while discovering and listening to music on YouTube is easy enough, saving those same videos as songs to your Mac is anything but easy. That's where Grappler comes in. Grappler is a nifty little Mac application that lets you download videos and music from YouTube and the Web easily and quickly.
Grappler downloads content in either video or audio only formats. Switching between the two formats is as easy as clicking a toggle button at the bottom of the Grappler window. Downloading a file requires just one click and you can have Growl notifications alert you when each download finishes. Grappler also supports downloads of videos on Websites other than YouTube, as well. Simply enter the URL of the site and select the video you want to download.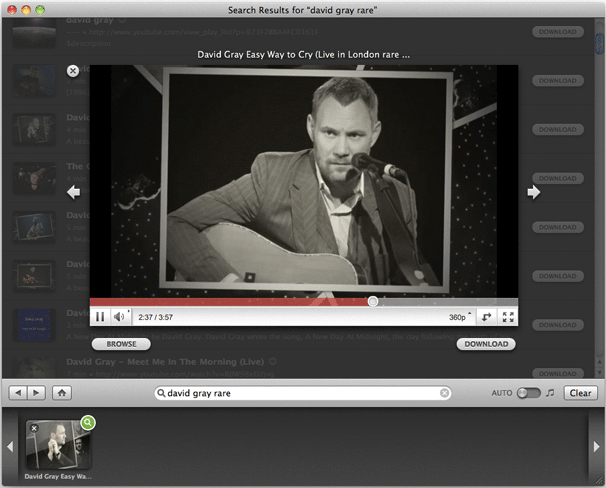 Grappler automatically imports downloads to iTunes: music to your library, and videos to your movie library. Users are given three choices in download quality: high quality MP4 format, a second format optimized for iOS devices and a third format optimized for the PS3 and Xbox 360.
While Grappler makes downloading videos easy, sorting which videos you want to download isn't as easy. Grappler doesn't include any advanced search function or filter to limit search results. This makes for a lot of scrolling after entering even the most generic search terms since Grappler searches for keywords and not just video titles.
Grappler is one of those little Mac apps that you wish you knew about earlier. Once you know about it, you come to rely on it. Grappler makes downloading content from YouTube easy and remains an all around useful utility.
Want to stay up-to-date with the latest Gems? Sign up for the Mac Gems newsletter for a weekly e-mail summary of Gems reviews sent directly to your inbox. You can also follow MacGems on Twitter.