Capcom revealed that by mid-July 2011, you'll be busting skulls and kicking teeth on a new Street Fighter title for the iOS platform. Featuring new characters and new multiplayer capabilities, Street Fighter Volt is intended to be the "Super" edition for mobile.
Street Fighter Volt offer 18 playable characters including four completely new to the mobile platform—including boxer Balrog, masked Spanish fighter Vega, inmate Cody, and a mystery character Capcom hasn't revealed yet. The 2D fighter includes the usual move set including distinct attacks, special moves, EX moves, supercombos and ultracombos.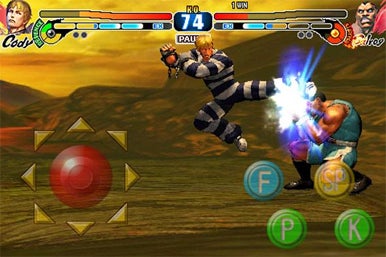 While the gameplay should be familiar to anyone who has played the series before, Volt's matchmaking represents a major step forward for the series. For the first time ever on a mobile platform, you'll not only be able to do battle over Bluetooth but also be able to battle your friends via Wi-Fi .
Capcom was also showing two other titles through its Beeline casual game development house. The first, Monster Pet Shop, is a freemium social game due out later this year. You've inherited a pet shop from your uncle and are tasked with breeding, incubating, raising, and selling cute little monsters. Each monster type is different and requires varying amounts of attention, special toys, and different ways to feed them. The happier the monster, of course, the higher the price it'll fetch. It's a cute approach to the traditional pet raising game and with the game's social features, could generate some buzz in the casual gaming world.
Meanwhile, Dream Park is a strategy RollerCoaster Tycoon-type game also due out later this year. Developed by Beeline, the freemium title allows you to grow your theme park into a must-visit destination. Players can customize their theme park according to their own thematic tastes with Jurassic, Sci-Fi, and Medieval/Fantasy as possible themes. Or, if you're building a truly monumental roller-coaster park, you can build three different zones within your larger park. While this might all seem fairly familiar to fans of Farmville, FrontierVille, and WeCity, Dream Park has a level of depth that may surprise some players. You're constantly balancing the level of happiness and the amount of money you rake in, and this is demonstrated in the build menu for different rides. With a slider, you can designate how much revenue or happiness will be generated, so you can gain experience very quickly or money or ensure your customers are always satisfied. There are 40 different rides and attractions to build so you can construct truly the park of your dreams.