Smith Micro has released a pair of animation program upgrades that cater to both novices and pros. Anime Studio Debut 8, a simple program targeted to novice users, hobbylists, and animation enthusiasts, offers a number of professional-level features in an easy-to-understand format. The Anime Studio Pro 8 upgrade, for professional artists and animators, expands that program by adding a slate of new tools and capabilities.
Debut version
Anime Studio Debut 8 is designed to allow aspiring animators to produce high-quality animations with a minimum of instruction. It offers a new Automatic Image Tracing feature that converts a paper drawing into ready-to-animate vector art in one click. This helps new artists (and kids) to start creating an animation in a few seconds.
The built-in Character Wizard automates the creation of fully rigged characters, complete with walk cycles and expressions. This facilitates speedy character creation, and thus faster complete animations, the company says.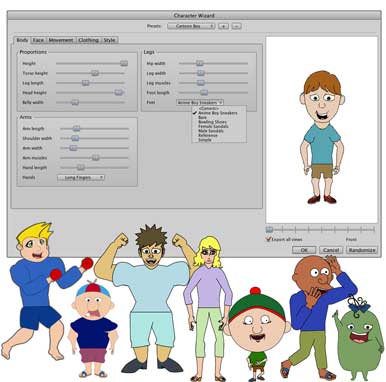 In addition, enhanced drawing tools let you create complex shapes and sketch in any style. The new Vector Shape Selector lets you quickly find and edit vector layers. And, you can now apply a cut-out style effect to any character or object
The Beginner's Mode tool guides new users through the program's major tools and techniques with short video tutorials, roll-over instructions, and a streamlined interface.
Pro version
Smith Micro has also released Anime Studio Pro 8 , a new version of its professional animation package. This upgrade expands the program's capabilities with the same Automatic Image Tracing and Character Wizard tools as the Debut version, and in addition, offers real time media connection and global rendering styles. When imported images, movies, and audio files are edited in other programs (including layered Photoshop files), they automatically update within Anime Studio Pro 8. Plus, with a few clicks, you can change the overall look and style of your creation.
Other new features include modified interface options, advanced scripting support, and the ability to use patch layers to create masks for overlapping layer elements. The pro version even lets you trace in color.
The new pro version also offers additional 3D video rendering options with full support for YouTube 3D formats, according to the company.
Pricing, availability, and system requirements
Both programs are universal and require OS X 10.5 or higher.
Anime Studio Debut 8 is $50 and is available from the Smith Micro Website. Until June 12, you can purchase the software for $20. Current Anime Studio Debut users can upgrade to Anime Studio Debut 8 for $20. Users can also upgrade to Anime Studio Pro 8 for $130.
Anime Studio Pro 8 is $200 and is available from the company's Website. Current Anime Studio users can upgrade to Anime Studio Pro 8 for $130. Site licensing and educational pricing are also available.
Smith Micro will showcase these upgrades at the San Diego Comic-Con International on July 21-24, at booth 5353. A demo video offering step-by-step instructions on creating animations is available on YouTube.