At a Glance
Expert's Rating
Our Verdict
Editor's note: The following review is part of Macworld's GemFest 2011 series. Every day from mid June through July, the Macworld staff will use the Mac Gems blog to briefly cover a favorite free or low-cost program. Visit the Mac Gems homepage for a list of past Mac Gems.
Viewing and accessing your calendar takes away bits of your time every time you need to look at it throughout the day. Those seconds add up and can be disruptive. Having a quick way to see what's coming up while keeping your workflow moving along is a priceless time saver. Mindful ( Mac App Store link) presents your calendar on your desktop, but under any windows or icons. It's unobtrusive yet still easy to access.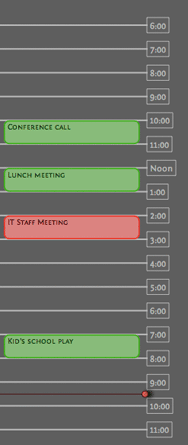 By default, the calendar listing displays in the lower left corner of your desktop. It can be customized to display less than a full 24 hours, as well as different colors for the timeline. The lower left corner is the best placement based on the design of the application, as it's not configurable enough to move the calendar to the right side of the screen and maintain its elegance. I tend to stack my windows on the left, which covers Mindful up. Being able to mirror the display to the right side of the screen would be useful. You also have options to change the color and opacity of the lines and times (the color of events is managed via iCal).
iCal and Google Calendar (with some work; the steps are on the Argyle Software's site) are the only calendars that will display in Mindful at the moment, although the developer notes they are working on adding Outlook support. In the meantime, you can display your Outlook or Entourage calendars through iCal using Sync Services, so the lack of direct support is not a deal breaker.
Mindful has an exceptionally unique approach to access your daily calendar. It's interface is useful while not being intrusive. With only a few exceptions, it's a great utility for keeping track of your daily commitments.
Want to stay up-to-date with the latest Gems? Sign up for the Mac Gems newsletter for a weekly e-mail summary of Gems reviews sent directly to your inbox. You can also follow MacGems on Twitter.