Movie-goers in the know are wary of sequels because, more often than not, those second and third installments fail to come up with anything original. It's entirely fitting, then, that an iOS game released to promote the Kung Fu Panda 2 feature film should fall into this sequel trap of merely repeating past glories. What's disappointing, however, is that Kung Fu Panda 2: Be the Master chooses to repeat other games' past glories.
The iPhone, iPod touch, and iPad game from THQ is actually a series of mini-games in which you control Po—the titular Kung Fu panda—as he continues his martial arts training. In "Paws of Power," a series of confetti-filled dummies are tossed onto the screen—swipe your finger across the screen to smash them to bits, but be sure to not hit any of the beehives that are thrown into the mix as well. In "Feet of Fury," you bounce your way up a waterfall, jumping from platform to platform to go as high as possible. Be careful, though—some of those platforms might crumble under your weight and send you plummeting back to earth.
iOS gamers can be forgiven if those descriptions fill them with a sense of déjà vu. "Paws of Power" is essentially Fruit Ninja without the fruit, while "Feet of Fury" is Doodle Jump with a panda filling in for the lovable space alien. Kung Fu Panda 2 promises to add other games in future updates. No word yet on whether that means we can expect to see Po flying through the air to smash structures as he battles hateful green pigs ("Angry Pandas") or challenge Shifu to a Scrabble-esque battle of wits ("Words With Pandas") or take on rivals armies of the undead and assorted flora ("Plants vs. Zombies vs. Pandas").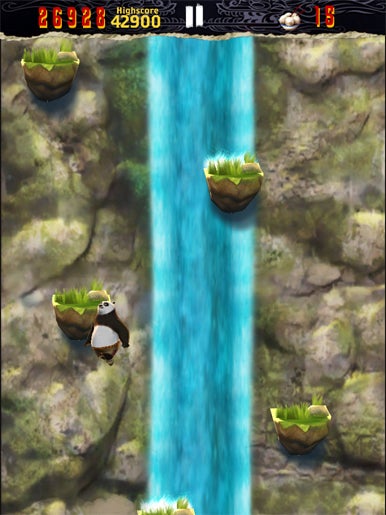 Look, there's nothing necessarily wrong with borrowing from your betters. And the gameplay in Kung Fu Panda 2 is decent enough, if not actually inspired. The sound effects and music are professional, even if the game itself has a rushed, let's-get-this-in-the-App-Store-for-the-movie's-release feel to it. I'm sure that kids who love the Kung Fu Panda movies will be perfectly happy playing the derivative games in Kung Fu Panda 2, and their parents will not be doing them a disservice by plunking down $1 and getting them this game. I just don't understand why anyone else wouldn't simply download the other, better games that provide Kung Fu Panda 2 with much of its inspiration.
[As far as Macworld.com executive editor Philip Michaels is concerned, the only sequels worth your time are Godfather Part II, The Empire Strikes Back, and Gremlins 2.]