The Doxo online storage service launched last year with the idea of cutting down on paper clutter by providing a digital file cabinet for storing bills, receipts, and other documents. On Thursday, Doxo added an iPhone app that lets users access those digital records when they're out and about.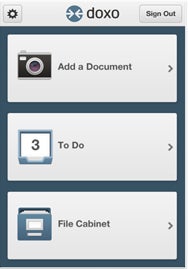 Steve Shivers, Doxo's CEO and co-founder, told me the idea for the company's service came from seeing one too many mailboxes jammed with bills that could just as easily be delivered electronically. To take the hassle out of going paperless for users, Doxo hooks up with providers—it's already signed up Sprint as well as some other utilities and banks—who then send bills and other communication directly to users' Doxo accounts. Doxo continues to look to sign up providers, notifying its users when a new one is added.
In addition to being a place to receive bills and bank statements, Doxo also makes its cloud-based storage service available for stashing other kinds of documents. That includes receipts, back-ups and copies of important documents such as deeds and passports, password and account data, and documents for later review—basically, Shivers says, anything you'd put in a filing cabinet, you'd put on Doxo.
A missing part of Doxo's digital filing cabinet approach, however, had been a way to access those documents when you're away from your computer. That's where Thursday's release of a free iPhone client comes in. (Doxo also has an Android app, with similar offerings for other platforms in the works.) From their iPhone, Doxo users can view whatever they've stored with the service. The app offers passcode protection, and everything stored on Doxo is encrypted with what Shivers calls "best-in-class financial transaction security."
The iPhone version of Doxo adds a few capabilities to the service as well. With the phone's built-in camera, users can snap photos of receipts—ideal for business travelers who need to fill out expense reports but are tired of fumbling with dozens of paper receipts.
The iPhone app lets users view account information and store bills, but you can't pay bill directly from the app just yet. That feature will come to the mobile app in the near future, the company says.