At a Glance
Expert's Rating
Our Verdict
Editor's note: The following review is part of Macworld's GemFest 2011 series. Every day from mid June through July, the Macworld staff will use the Mac Gems blog to briefly cover a favorite free or low-cost program. Visit the Mac Gems homepage for a list of past Mac Gems.
There are dozens of launcher applications available for speeding up your productivity on your Mac, each with their own strengths and peculiarities. Nulana's Launcher ( Mac App Store link) is an admirable addition to the crowd, providing quick and easy access to applications, folders, files, Web searches, system commands (like going into Screen Saver mode), and shell commands.
Activated by a keyboard shortcut, the launcher itself is a small horizontal text box reminiscent of Spotlight. Like Apple's system tool, you can enter in application names, dictionary definitions and numeric equations, and file names—but Launcher doesn't stop there: The application takes it one step further by allowing you to map customized phrases to your tasks. (To open Macworld.com in my browser of choice, for example, I would need only to type in "mw".)

You can layer an additional level of complexity on URLs and shell commands with placeholder symbols, allowing users to create custom searches and multi-part phrases. Searching IMDB with one of these shortcuts is easy: Just set up the shortcut in the preferences pane to open the URL http://www.imdb.com/find?s=all&q=$ whenever you type in the phrase imdb; the $ symbol will fill in with whatever you type after imdb in Launcher's text bar when you hit enter. If you know any basic Unix commands, you can also create short shell scripts to run upon key commands as well, or use Launcher's file opener preset to set a phrase to open an AppleScript or shell script.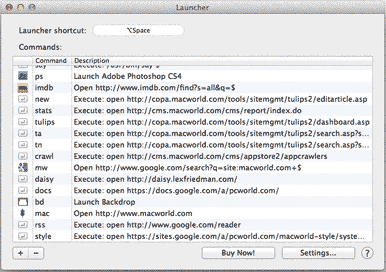 For its price, Launcher is surprisingly full-featured without being weighed down in complexities; on top of that, it's quickly become an invaluable tool for my daily workflow.
Want to stay up-to-date with the latest Gems? Sign up for the Mac Gems newsletter for a weekly e-mail summary of Gems reviews sent directly to your inbox. You can also follow MacGems on Twitter.