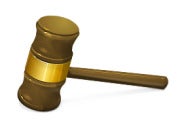 Apple has filed a motion to intervene in Lodsys's lawsuit against seven developers. As first reported by anti-patent crusader Florian Mueller on his blog, Apple's filing already includes its answer to Lodsys's complaint, and its own counterclaim—should the court approve Apple's initial intervention motion.
Lodsys made headlines back in May when it sent legal threats to various iOS developers, alleging that their apps violated one or more of several Lodsys patents covering in-app purchases. The patent holder later alleged that while Apple itself already licensed its patents, individual developers needed their own licenses. Apple eventually responded, sending a letter to Lodsys contending that it "is undisputedly licensed to these patents and the Apple App Makers are protected by that license. There is no basis for Lodsys' infringement allegations against Apple's App Maker."
Following Apple's letter, Lodsys filed suit against various developers—including iOS, Mac, and Android software makers—at the end of May. Apple itself was not named as a defendant; the company's Thursday's filing is thus focused on seeking the judge's approval for Apple "to intervene as a defendant and counterclaim [Lodsys]… because [Apple] is expressly licensed to provide to [App Store developers] products and services that embody the patents in suit, free from claims of infringement of those patents." Apple alleges that "[b]oth Lodsys's Complaint and its threats to other Apple developers adversely affect the value of Apple's license [to the patents] and its business with Developers.""
Apple's filing also takes thinly-veiled jabs at the entire software patent licensing situation: "Apple periodically enters into licenses for patents that allegedly cover Apple technology," it writes (emphasis added).
The motion to intervene makes the same basic case that Apple made in its letter to Lodsys—chiefly, that the alleged patent violations all depend upon "an Apple API and other Apple technology… not on algorithms or content provided by the Developers themselves," and that Apple's license therefore covers all the actions involved. Apple continues: "The only thing [the apps in the lawsuit] have in common is their use of the Apple technology that permits the Developers to interact with Apple end users through the App Store and other Apple technology."
The full text of Apple's motion to intervene is available here. Also available is Apple's proposed answer and counterclaim. The latter document requests "[a] declaration that Lodsys's claims against the developers are barred by the doctrines of patent exhaustion and first sale," which Apple says "will render moot many, if not all, existing claims."
Apple did not respond immediately to Macworld's request for comment on the filing.