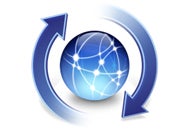 In a week where Apple was giving developers an up-close look at the next versions of Mac OS and iOS at its Worldwide Developer Conference, the company also offered something more immediate for iMac users—a firmware update aimed at fixing a waking problem affecting some desktops.
The release notes for iMac Graphic Firmware Update 2.0 say that problem addressed by the update is rare—some iMacs would hang during startup or waking from sleep. The update weighs in at just 699KB and requires Mac OS X 10.6.7 to be installed.
Apple cautions users against cutting off the power to their iMac while the update is in progress because it may cause serious damage to the system, even going so far as to prevent it from starting up.
iMac users can grab the update at Apple's Support Downloads site or by running Software Update.