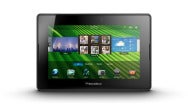 A new version of the BlackBerry Tablet OS will soon be available to all BlackBerry PlayBook tablet users, to address a security issue raised by Adobe about its Flash Player, Research In Motion said Sunday.
The new version of the operating system, version 1.0.5.2342, will contain an updated version of the Flash Player, RIM said in a blog post.
Adobe issued an update last week for its Flash Player to deal with a cross-site scripting vulnerability. The problem could be exploited to perform actions on behalf of a BlackBerry PlayBook tablet user on any Website or web mail provider if the user visits a malicious website that loads Adobe Flash content, RIM said on a support page.
The PlayBook's operating system is built from the ground up to run Adobe Flash.
Users who purchase and activate a BlackBerry PlayBook tablet on or after June 12 will automatically be updated to the latest version as part of the BlackBerry PlayBook setup process.
Existing users will automatically receive a software update notification on their device, or they can manually check for the software update, RIM said.
The company said that there are no known reports of PlayBook users being affected by the Adobe Flash issue, but advised all users to update the operating system.
RIM last month recalled 1,000 PlayBook tablets after they were found to have shipped with a faulty build of the operating system.
The Canadian company is planning to launch the tablet in 16 new markets around the world over the next 30 days, it said on Friday. Among the countries are the U.K., Germany, France, Spain, India, Mexico, Singapore, Australia, Colombia, and Venezuela.
The BlackBerry Tablet OS is built upon the QNX Neutrino microkernel architecture. Gartner forecast in April that QNX will have a 5.6 percent market share in tablets this year, rising to 10 percent in 2015. It will however trail behind Apple's iOS and the Android operating system.
BlackBerry PlayBook Tablet Computer