With this fall's iOS 5 update, Apple plans to add some new camera and photo-editing features to the iPhone, iPod touch, and iPad. On their own, the new tools are nothing revolutionary—most are already available in third-party apps. What will make the new camera features useful, however, will be the added convenience that comes from being able to access them from the iPhone's lock screen. The editing features will be a welcome addition to iPhone users who don't already use third-party editing apps.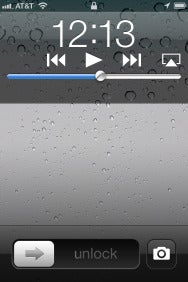 Lock screen access
The rallying cry of iPhone photographers has been that the best camera you have is the one that's with you. Yes, always having an iPhone on you is handy for catching unexpected moments, but you lose precious time fumbling to unlock it with your passcode, and then finding and tapping the Camera app.
Apple will make the iPhone and iPod touch feel more like real point-and-shoot cameras by adding Camera app access to the lock screen. Double click the Home button, and a camera button will appear to the right of the unlock slider. One tap, and your iPhone, iPod touch, or iPad launches into camera mode.
Access is limited in this mode, so if a stranger or nosy friend gets their hands on your iOS device, they can take photos but not see any images already in your Camera Roll. You have access to all of the camera features, and can view or delete any photos or videos taken in this mode, but you can't share or edit the images without unlocking the device.
Volume Up as shutter button
Third-party photo app developers have tried to turn the iPhone's Volume Up button into a shutter release before, only to get shot down by Apple. In iOS 5, Apple has taken the hint and made the hardware tweak itself.
The Volume Up button isn't in the ideal spot for a shutter button—the lens of the camera is in the lower right corner while you're shooting—but as long as you are careful not to put a thumb in front of the lens it's a great new option to have. Using the button should feel more natural to use than tapping the screen; it will also minimize camera shake.
Exposure/AF Lock, Grid Overlay, and Pinch-to-Zoom
You'll find the other new Camera features slated for iOS 5 in various third-party photo apps that are already available in the App Store. In iOS 4, you tap once on the Camera screen to set the focus and exposure for an image. Apps like Global Delight's great Camera Plus Pro have long allowed users to tap in one spot to set the focus, and tap somewhere else to choose the image's exposure. Apple is adopting that feature for iOS 5; tap and hold to lock the exposure for your shot (the blue box will blink to indicate that the exposure lock is on), then tap anywhere else on the screen to focus the camera.
There's a new Grid option that divides the screen into thirds. The addition of an optional grid overlay might be useful for photographers practicing the rule of thirds. Unfortunately for heavy HDR users, it will also add another level of navigation to turn the HDR feature on and off. The HDR button is getting replaced by an Options button that you tap once to access the HDR and Grid On/Off toggles.
Rounding-out the new camera features is the ability to pinch-to-zoom instead of tapping once on the screen to bring up the zoom slider.
Photos app upgrades
Apple will finally bring a bit of iPhoto's powers to the Photos app. Unfortunately, these new editing features won't be available from the camera roll you access from within the Camera app—you can only apply them in the Photos app. With a ton of editing apps already in the App Store for executing same basic improvements along with much more advanced edits, it will be nice to have these conveniently in the Photos app. Still, more serious iPhone photographers aren't going to stop using editing apps like Photogene or the great new Snapseed anytime soon.
As in iPhoto, an Auto-Enhance button will instantly improve an image by tweaking settings like sharpness, levels, and contrast. There are already some editing applications dedicated to doing just this, like Athentech's Perfectly Clear. Other new iOS 5 editing features include red-eye removal (no word on whether it works on the iPhone's unfortunate "white-eye" issue caused by the LED flash), and the ability to rotate and crop images. When cropping, you can choose the crop ratio manually or choose from nine preset crop sizes.
A very welcome new Photos feature will be the ability to make a new photo album directly on your device. When you add a photo to a new album, a copy stays in the main camera roll folder.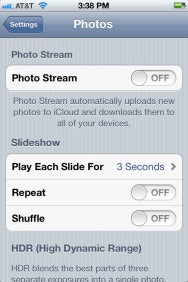 Photo Stream
The most inventive new photo addition is Photo Stream, which is part of the forthcoming iCloud data sync service. Photo Stream syncs your most recent 1000 photos across all of your iOS devices, iPhoto on your Mac, your second-generation Apple TV, and with the Pictures Library on Windows PCs. You'll turn on Photo Stream in the Photos settings screen. It won't be retroactive, meaning only the new photos you take after upgrading to iOS 5 will sync. As the name says, Photo Stream only works for still photos and will not sync videos you shoot on your iOS device. It would be great if users had some control over what syncs, but for now, it's straight from the Camera Roll to the cloud.
Photo Stream isn't limited to shots taken on your device's camera. It also works for images imported to your iOS device, which could be a cool feature for photographers backing-up to an iPad with the Camera Connection Kit. New photos are only stored for 30 days, but if you want an image to stay on your device longer, you can save it to your Camera Roll. Your Mac or PC will keep all photos that come through the stream, not just the last 1000.
First impressions
On the whole, these new features look useful but not groundbreaking. The Lock Screen access and new shutter button features will go a long way to making the iPhone more like a real camera. The ability to make new folders, and Photo Stream are huge time savers for photo management. But the other features being rolled out are already available through third-party apps, so their usefulness depends on how you use your camera. Habitual Instagram and Hipstamatic users may not even notice they're there.
[Heather Kelly is a Macworld senior associate editor.]