ProFlowers, an iPhone app for the online florist of the same name, will deliver flowers and gifts to a recipient of your choosing, thoughtfully keeping you abreast of your order's status every step of the way. It's too bad you have to endure a nightmarish interface to enjoy an otherwise worthwhile service.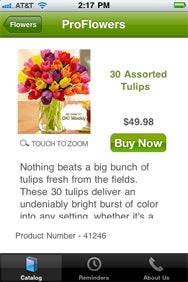 ProFlowers features some of the same design elements you'll find in the rival 1800Flowers app. Launch ProFlowers, and you'll land on a home screen that lets you browse by category (Best Sellers, Occasions, Flowers, and three others). Tap on any of those categories, and you'll go to a list of the various arrangements and gifts that ProFlowers offers. You can't search for specific flowers or arrangements, and there's no way to flag favorites for later orders.
Pages for individual arrangements are also problematic. You get a photo of the arrangement (which you can tap to enlarge) a price, a Buy Now button, and a description. That description looks as unappealing as ProFlowers' arrangements look lovely: The text just sort of floats in space and seems cut off; it's only when you tap on the description that you see scrollbars for bringing up the rest of the description. I realize that approach is a convention of iOS app design, but it's done in a particularly cluttered way here.
I bear a grudge against ProFlowers' description pages for another reason. While jumping back from descriptions to look at other arrangements, the app quit on me a few times—not enough to render ProFlowers unusable, but certainly often enough to take note of the issue.
ProFlowers does offer a nice features I haven't seen in other flowering-ordering apps. You can set up reminders for occasions where you want to remember to place an order. The app supplies you with a list of standard holidays (Mother's Day, Valentine's Day, National Boss Day, and the like), and you can also set your own reminders for things like birthdays and anniversaries. The app will also send you push notifications of special offers, though you can turn those off without compromising your ability to set reminders.
ProFlowers includes a phone number that you can tap for placing an order, after browsing through the florist's catalog. I'd actually recommend that route because ordering through the app itself is a bit of a horror show. After selecting your delivery date from a scroll wheel—Pro Flowers thoughtfully includes whether your selected date includes extra delivery charges—you go to an order page, which has not been designed to fit your iPhone's screen. Rather, it looks more like a Web page crammed onto your iPhone; you can only navigate the screen by pinching and zooming. That's an especially irksome approach on pages with a lot of fields requiring data entry—it's frightfully easy to skip over a required field. (To be fair, there is an Autofill button that links to your phone's address book, which takes a little bit of the pain out of negotiating those poorly designed pages.)
It's a shame that the order process with the ProFlowers app is so off-putting because the service you get once you place an order is outstanding. I received an e-mail from ProFlowers letting me know my order had been placed, as well as e-mails when the order was picked up for delivery and when it reached its final destination. I've tested a number of iPhone-based florist apps, and most will only e-mail you a confirmation of your order, if they can even be bothered to send that. ProFlowers' customer service sets a high bar for its rivals.
If ProFlowers put even a fraction of the effort it expends on customer service into designing a more usable app, its iPhone offering would be an outstanding way to shop for and order flowers. Unfortunately, its current design makes it hard to recommend for anything other than window shopping for orders you place over the phone.
[Philip Michaels is the executive editor of Macworld.com.]