At a Glance
Expert's Rating
Pros
Improved workflow through streamlined interface
easy to use Mirror and Kaleidoscope painting modes
Clone Source palette
Real Watercolor and Real Wet Oil brush categories
Cons
No noticeable speed increase
Our Verdict
It's hard to imagine how an artistic program of the caliber of Painter could improve, but the folks at Corel have managed it. Painter 12 introduces a brand new interface, redesigned panels and dialogs, new Real-Media brush categories, and two painting modes you've got to see to believe.
Geared toward fine artists and hobbyists alike, the program continues to expand the boundaries of what's possible in digital painting.
New interface
Corel knows most Painter customers also use Adobe Photoshop, so they redesigned the interface, panels and dialogs of Painter 12 to be extremely Photoshop-like. Toolbox, brush, and media icons are bigger, too, and panels are docked in tabbed groups, enabling you to easily switch between them or scoot them out of the way. The New Image dialog was revamped as well, allowing you to add a name, manage document presets, and choose paper texture (instead of just paper color) all in one spot.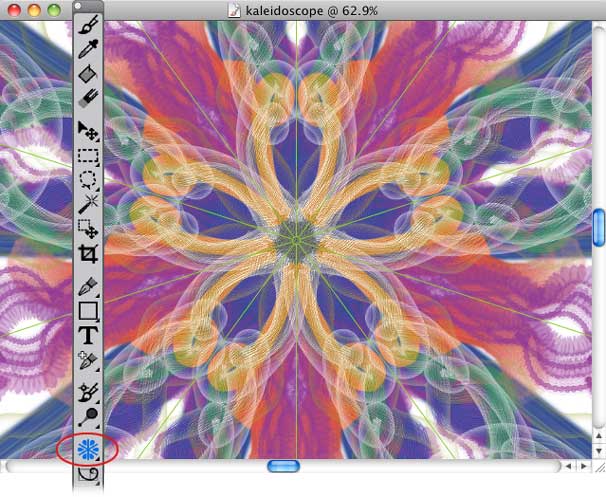 You'll also notice a new Navigator panel at the top right, handy for moving to another location in large artwork while you're zoomed in. The red rectangle marks your current location; just move it to another spot to change your focal point. It also gives you quick access to handy items such as document size, canvas rotation, drawing modes, and more. The new High Quality Display option smooths artwork edges when zoomed in so your art looks like it will when printed. It's accessible on the property bar when the Grabber, Magnifier, or Rotate Page tools are active. The new Temporal Colors palette is akin to Photoshop CS5's HUD Color Picker.
Press Command+Option+1 and you'll summon a floating Hue ring and Saturation/Value Triangle that lets you swap colors without mousing away from your painting. You can now change brush angle and squeeze with a keyboard shortcut: press Command+Option, then press and hold your stylus (or left mouse button), release Command and Option then press Command twice and drag the Squeeze circle until it's the percentage you want. Changing brush angle works the same way though you press Command three times and then adjust the Angle circle. It sounds convoluted but it works well; the Command key merely cycles through brush size, opacity, squeeze, and angle controls. A new Computed Circular brush control panel also lets you tweak a paint dab's edge opacity and hardness.
Perhaps the most exciting feature to Painter veterans is the new Clone Source palette, which eliminates repeated trips to the File menu (previously the only place to swap sources). Via the new palette, you can create a library of sources that are embedded into your document, which keeps you from having to copy/paste them into multiple layers. This is handy for merging several images into the perfect shot, say, where everyone's eyes are actually open.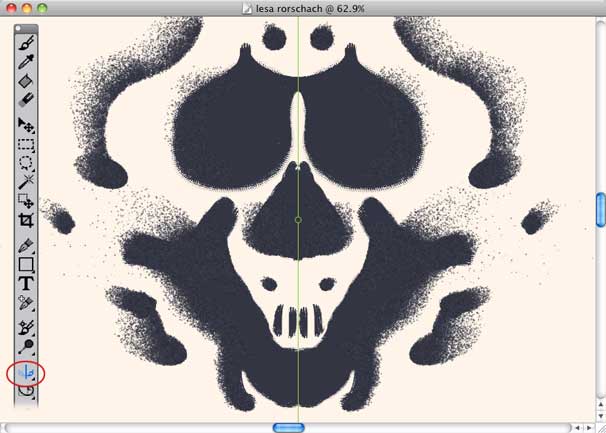 Add it all up and you've got a significantly cleaner and friendlier interface with easier access to frequently used controls (though veterans may find it frustrating at first).
New painting modes
Beginners and abstract artists will enjoy Painter 12's two new painting modes. Mirror Painting duplicates your brushstrokes on a one- or two-plane mirror to create symmetrical art (think Rorschach inkblots). This is an incredible timesaver, unless you favor the style of Picasso or Miro wherein two sides of an object or face rarely match.
Kaleidoscope Painting mode is similar though with three to 12 mirror planes. It transforms your brushstrokes into a well-balanced, interesting array of shapes and colors, just like its name implies. It's handy for creating unique backgrounds and, admittedly, it's an incredibly fun way to spend an evening.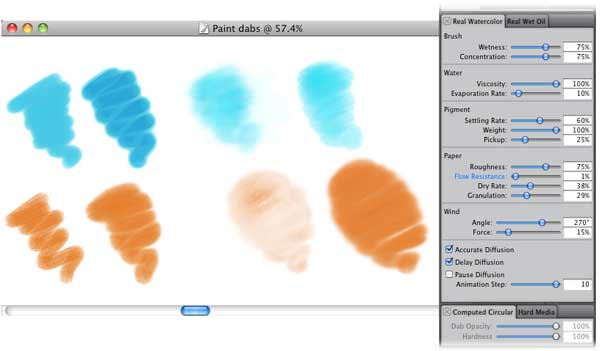 The new Gel brushes let you add a color cast to underlying colors in your image, and their Merge Modes let you customize how they work. Painter 12 also sports six new Digital Airbrushes and two new Real brush categories, Real Watercolor and Real Wet Oil. Both take advantage of Natural-Media technology for a shockingly realistic painting experience.
Last but not least, the new Smart Blur effect lets you add a "painted" look to photos by slightly blurring details and smoothing colors (it lives in the Effects -> Focus menu). It works well enough on photos with lots of hard lines, though you'll need to experiment with the amount to see any real difference.
While Painter 12's brush engine reportedly takes advantage of multicore processors, you won't notice it unless you're using a high end, 8-core system. In my own testing, I didn't notice any performance difference between Painter 11 and 12 (on my MacBook Pro, 2.66GHz Intel Core i7 with 8GB of RAM), even when using large brushes (90 pixels in size).
Macworld's buying advice
Long-time users may be understandably frustrated by the interface change, but once they get used to it they'll likely experience increased efficiency from a smoother workflow. Those new to Painter will appreciate the new painting modes; fine artists will enjoy the new Watercolor and Wet Oil brushes; and users of all levels can finally stop squinting to see the icons. If you've got money to burn, this upgrade is a worthwhile expenditure, but not a necessity (unless you do an incredible amount of cloning). If you're diving into its signature paint can for the first time, Painter 12 is the user-friendliest version yet.
[Lesa Snider, author of Photoshop CS5: The Missing Manual and coauthor of iPhoto '11: The Missing Manual (Pogue Press/O'Reilly) is chief evangelist of iStockphoto.com , a long-time member of the Photoshop World Instructor Dream Team and founder of GraphicReporter.com .]